News Archive
Edmonds CC Foundation
03/03/16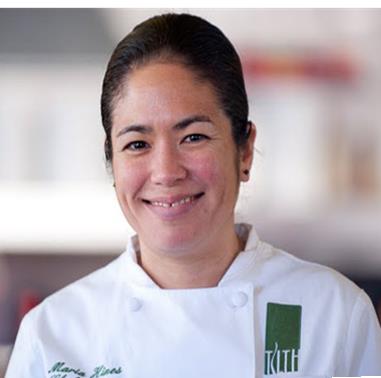 Maria Hines, restaurant owner and chef
The Edmonds Community College Foundation's 30th annual fundraising auction and gala dinner will feature celebrity guest Maria Hines, owner and chef of the Golden Beetle Restaurant and Bar, Tilth, and Agrodolce and winner of the 2009 James Beard Award for Best Chef Northwest.
The Foundation's "Havana Nights: Making Dreams Take Flight" dinner and auction will be March 5 at Edmonds CC.
The evening will feature guest speakers, Autumn Martin, Edmonds CC's 2008 distinguished alumna and owner of Seattle's Hot Cakes Molten Chocolate Factory and Astrid Baretti, a student scholarship recipient.
The auction and gala aims to raise $250,000 to support access, success, and excellence for students and employees at Edmonds CC.
Hines has designed a special menu for the gala and will work with students in the college's highly-acclaimed culinary arts program.
"We are honored to have Maria Hines as our celebrity guest this year," said Brad Thomas, Executive Director for the Edmonds CC Foundation. "The experience of our Culinary Arts Department students working with a celebrity chef to prepare an extraordinary four-course dinner is priceless."
Edmonds CC students preparing for careers as cooks, kitchen managers, bakers, pastry chefs, and other jobs in the foodservice industry will benefit from the experience and the interaction with Hines as they help prepare and serve the meals to auction attendees.
Hines follows a welcomed and acclaimed tradition of featuring local celebrity chefs at the Edmonds CC Foundation's annual gala and auction including Bobby Moore (The Barking Frog), Josh Henderson (Huxley Wallace Collective), Peter Levine (Waterfront Seafood Grill), Lynne Vea (PCC Natural Markets), Thierry Rautureau (Chef in the Hat), Doug Wilson (Ten Mercer), and Holly Smith (Café Juanita).
In addition to a unique dinner experience, auction participants will participate in activities for opportunities to win exclusive wines, diamond jewelry, and a seat at the upcoming and exclusive "Edmonds Trivia Night" hosted by Salish Sea Brewing Co. and the Cheesemonger's Table, both in Edmonds.
Participants will also bid on a variety of one-of-a-kind items such as vintage wines, private chef dinners, a Maserati, and various local, national, and international vacation packages including Wapato Point, Sun Valley, New York City, and Cabo San Lucas.
Many additional items and experiences have been donated by local businesses and other gala supporters.
This event is the area's biggest fundraiser in bringing in needed money for student scholarships, emergency funding, and college project grants.
The Edmonds CC Foundation awarded 216 scholarships, 15 innovative grants, $20,000 in emergency funding, and more than seven awards of excellence as a result of the funds raised at last year's gala and auction.
"This event will be another star-studded night and I look forward to gathering with community members to help make dreams take flight for many students at Edmonds CC," said Thomas. "All of the support generated through this event will go directly to helping students thrive in our community," said Thomas.
Each year, lives are impacted through the generous donations and support of the community. Contributions are accepted year-round. For more information, go to www.edcc.edu/foundation.