News Archive
The Boeing Company recognized for their commitment to the community by Edmonds CC Board of Trustees
03/17/16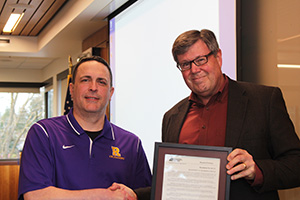 Rich White, Government Affairs for The Boeing Company (left), and Quentin Powers, Edmonds Community College Board of Trustee Chair (right)
The Edmonds Community College Board of Trustees recognized The Boeing Company for its 100 years of service through global impact in the aerospace industry and commitment to the local community with a resolution during their board meeting on March 10.
The resolution highlighted Boeing's continuous financial support of Edmonds CC Foundation's scholarships and emergency student assistance programs along with the company's commitment to student success by hiring Edmonds CC graduates.
Boeing, who is celebrating its centennial year, annually donates $53 million in the areas of education, health and human services, arts and culture, environment, and civic engagement.
"Our faculty, staff, and students are incredibly fortunate to have a global leader like The Boeing Company in our community," said Edmonds CC President Jean Hernandez. "We are excited as a college to continue to prepare our students to become the future leaders of The Boeing Company for the next 100 years and beyond."
"The anniversary of our first 100 years is an opportunity to celebrate with everyone who made this historic milestone possible, including our employees, customers, and communities," said Leslie Hazzard, Boeing Commercial Airplanes leader for the Boeing Centennial. "We appreciate our longstanding relationship with Edmonds Community College, and we thank them for their partnership in helping us build a better future by inspiring and educating the next generation of aerospace leaders."
Media Contact Info
Marisa Pierce
425.640.1697
marisa.pierce@edcc.edu