News Archive
Community supports student success at Edmonds CC auction
03/23/16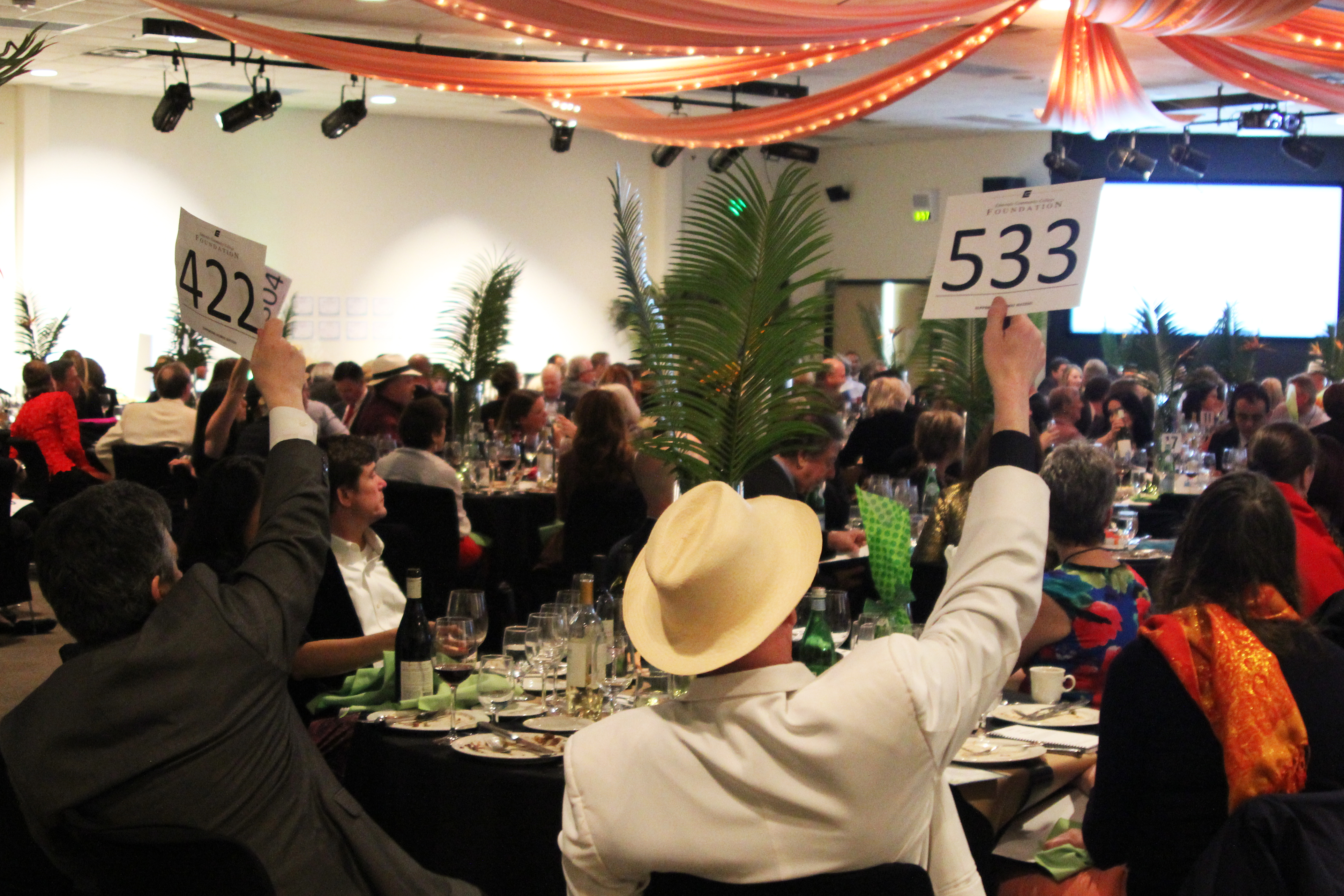 Guests at the 2016 Foundation Gala Auction bid on items.
The Edmonds Community College Foundation auction, "Havana Nights: Making Dreams Take Flight," held on March 5 raised more than $207,000 in support of access, success, and excellence for students, faculty, and staff at the college.
"We are continually amazed by the generosity of our guests, donors, and sponsors that support our efforts to transform the lives of our students here at Edmonds Community College," said Brad Thomas, Edmonds CC Foundation Executive Director.
More than 240 people attended the annual auction. Guest Chef Maria Hines — owner of Golden Beetle Restaurant and Bar, Tilth, and Agrodolce — created the menu, which was prepared and served by students and instructors from the college's Culinary Arts department.
Auction items included: high-caliber wines, local and international travel packages, and fine dining experiences. Highlights were: a handmade garden bench, a weekend in New York city to see Jimmy Fallon, and private dinners with celebrity chefs.
"Our community continues to partner with us in providing dedicated volunteer leaders who procure auction items, sponsors, and table hosts while giving their time, talent, and treasure to improve the lives of our students through scholarships, grants, awards, and emergency funding," said Thomas.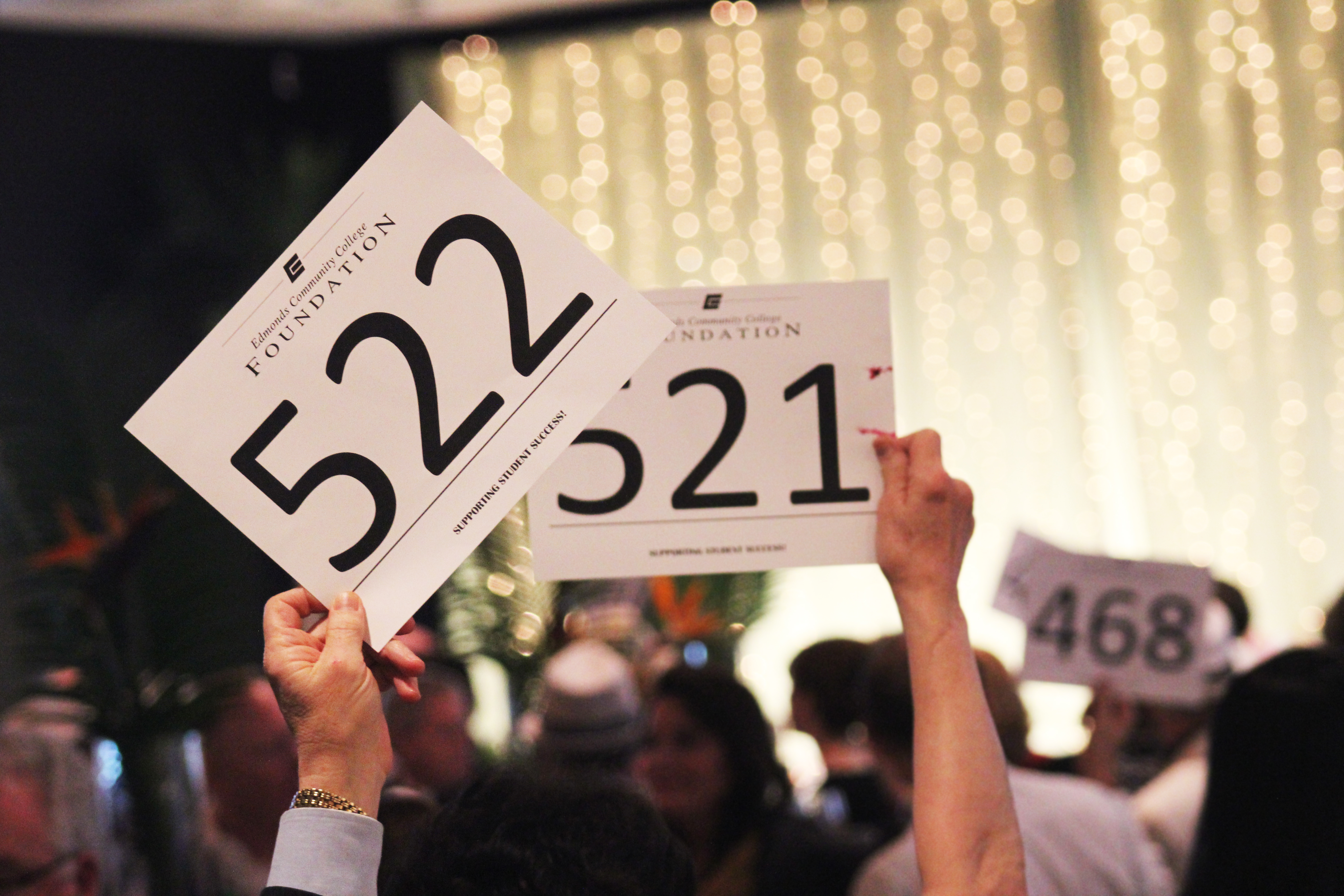 Guests at the 2016 Foundation Gala Auction bid on items.
Many local businesses supported the auction, including the Gold sponsors: Premera Blue Cross, The Boeing Company, and Dean and Carla Nichols. Silver sponsors included: Acura of Lynnwood, Comprehensive Wealth Management, Harbor Square Athletic Club, Heritage Bank, Karr Tuttle Campbell, Lynnwood Honda, McKinstry, Molina Healthcare, Reid Middleton, Schacht Aslani Architects, Swedish Edmonds, and Vine Dahlen.
Auction items were donated by local businesses: Arista Wine Cellars, Beresford Booth, PLLC, Cascadia Art Museum, Cappy's Boxing Gym, Edmonds Book Shop, Chanterelle, Experience Momentum, Housewares, Il Terrazzo Carmine, J. Rankin Jewelers, Kay's Creations, Morgan Sound, Quilceda Creek Vintners, Rairdon Auto Group, Salish Sea Brewing Co., Scratch Distillery, Serendipity Jewelry, The Cheesemonger's Table, The Savvy Traveler, The Wooden Spoon, Tulio Ristorante, and Undseth Financial.
During the 2015-16 school year, the Foundation disbursed $273,000 in scholarships and emergency funds to students and contributed more than $398,000 in direct support to college programs. For more information about the Foundation,call 425.640.1274, email foundation@edcc.edu, or go to www.edcc.edu/foundation.
Media Contact Info
Marisa Pierce
425.640.1697
marisa.pierce@edcc.edu