News Archive
ESL volunteer teaches �world�s nicest students� at Edmonds Community College
07/07/16
When boredom set in six months into retirement, Alan Biné began to search for a meaningful way to fill his days. A poster at a local library asking for English as a Second Language volunteer teachers sparked his interest, and after five years of volunteering at Edmonds Community College, Biné has written an essay about what he's learned from his students.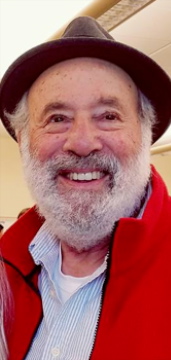 Alan Biné
"My life was never as interesting as it has been the last five years since I've been helping students from all over the world learn to speak English," Biné wrote in his essay titled "My Turn: An ESL volunteer's story."
You can find a link to his essay on the college's blog, Edmonds Sphere, here.
Biné has been "hugely impressed" by the motivation of students who have immigrated to the U.S. and their commitment to learning English.
"They are willing to do whatever it takes to succeed," he said. "They know that improving their English is a key to a better life here."
Although Biné has been the teacher, he has learned just as much from his students who have immigrated to the U.S. from more than 50 different countries, including South Korea, Ethiopia, India, Belarus, Colombia, Cambodia, and more.
Biné was surprised to learn from an Ethiopian student that while it is 2016 throughout most of the world, it is 2009 in Ethiopia.
After a bit of disbelief and a Google search, Biné confirmed that his student was right. Read more about it in his essay.
From trivia facts to stories of students' home life, he said he has "gotten to know some folks really well."
"There's the eager young man from Belarus who now bakes cheddar cheese biscuits at Red Lobster, and the bright new mom-to-be from El Salvador," Biné said. "I remember the articulate children's doctor from Pakistan, along with the gentleman from Mexico who keeps winking at everyone."
Biné plans to continue volunteering, and said if he doesn't get to travel abroad again, he will be happy with the life he's "been blessed to have."
"Just as long as I can keep meeting the world's nicest students at their busy campus near my home," Biné said. "Some people believe Disneyland is the happiest place on Earth.
"To me, that place is Edmonds Community College."
The Edmonds CC Adult Basic Education ESL class provides ESL classes to non-native-English-speaking immigrants, refugees and citizens. For more information on the program or volunteering, visit edcc.edu/abeesl.
Media Contact Info
Laura Daniali
425-640-1513
laura.danial@edcc.edu