News Archive
Edmonds CC to launch The Facility, a DIY makerspace for the community
08/04/16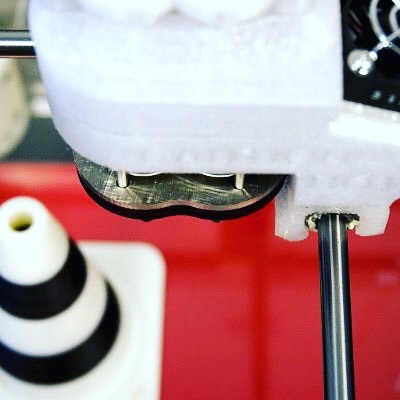 Edmonds Community College will launch the Rapid Proto Lab at The Facility, the college's new makerspace, on Aug. 15. Come watch equipment demos for 3D printers, 3D scanners, laser cutters, and a CNC router, and find out how you can gain access to hi-tech equipment.
Edmonds Community College embraces the maker and Do It Yourself movements with its official launch of The Facility, a DIY space for the community.
The Facility will host a free launch event from 12:30-3:30 p.m. Monday, Aug. 15, to debut the Rapid Proto Lab, which offers DIY access to laser cutters, 3D printers, 3D scanners, and a CNC router.
"There's a lot of money invested in this building, and it's a really great set of equipment," said David Voetmann, designer of The Facility.
The event will include a tour of the 11,000-square-foot space that houses over $1 million in state-of-the-art high-end technical equipment used in the production of composites, aerospace, and consumer products.
There will be equipment demos, hors d'oeuvres, and the chance to connect with other makers – artists, inventors, entrepreneurs, students, educators, hobbyists, side-giggers, tinkerers, and world changers.
"The college's mandate is two-fold," Voetmann said, "We're custodians of public resources, so our job is to promote those resources and the utilization of those resources as efficiently as we possibly can, which means making them available to more people."
The Facility is housed in Monroe Hall, Edmonds CC's on campus training center for students in the college's Engineering Technology programs. The building will continue to serve, first and foremost, as a learning environment for students, and second, as a makerspace.
"Edmonds CC really introduced me to the idea that this could be a gym for people who make things," Voetmann said. "The reason I go to the gym is because I don't want 10 ellipticals in my garage, right?
"The reason I come here is because I don't want $1 million of equipment in my garage, so it's very much the same concept."
As a maker himself, Voetmann said The Facility offers access to equipment that is not affordable for most individuals to own.
The goal of The Facility is to be a place where individuals, or makers, can turn thoughts into things. Makers will learn how to convert pen and paper ideas into 3D concepts using modeling software, and complete two-hour introductory classes on how to safely operate the equipment.
Voetmann said it's a place for entrepreneurs to take the next step and rapidly prototype and refine a concept.
If you don't have an idea yet, Voetmann said that's even better. Come in with a problem and work to create a solution. Become a maker.
"The future belongs to makers," Voetmann said.
If you'd like to attend The Facility launch, RSVP by Aug. 8 to http://bit.ly/2asWtnf. The Facility is at Edmonds Community College, Monroe Hall, 6606 196th St. SW, Lynnwood, WA.
Media Contact Info
Laura Daniali
425.640.1513
laura.daniali@edcc.edu