News Archive
Edmonds CC Foundation awards $50,000 in full-ride scholarships
08/09/17
The Edmonds Community College Foundation recently awarded $50,000 in full-ride scholarships to five local high school students.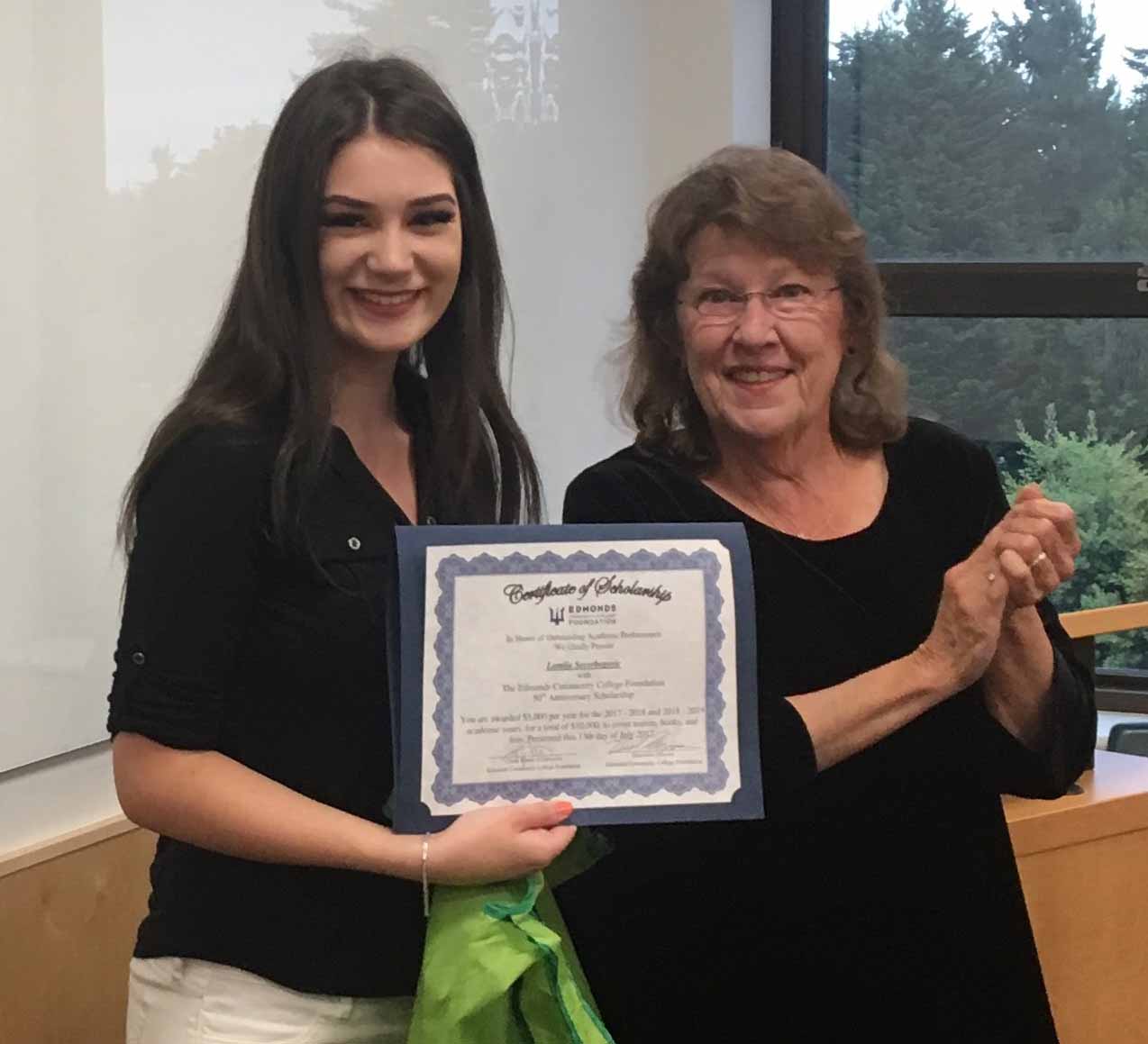 (from left to right) Foundation scholarship recipient Lamija Secerbegovic and Foundation board member Libby Lewis.
"We want to recognize the hard work and dedication of these high school students to their education and communities," said Brad Thomas, the Foundation's executive director. "By providing them with full-ride scholarships, we're investing in their higher education goals and our community's future leaders."

Each student will receive $10,000 to cover the cost of tuition, books, and fees for two years. Funding will be provided by the Foundation's 50th Anniversary Scholarship.

Foundation scholarship recipients include Kimberlee Perez Chaparro, Edmonds-Woodway High School; Lamija Secerbegovic, Lynnwood High School; Rebekah Holter, Meadowdale High School; David Robert, Mountlake Terrace High School; and Emma Sariah Jensen, Scriber Lake High School.

"This scholarship means that my first two years of higher education will be paid for, and the money I earn from my job will go toward paying for university and acquiring a bachelor's degree in business," Secerbegovic said.

She is ambitious and determined to reach her career goals of becoming a business manager, and eventually, owning her own business.

"This scholarship will contribute to making my dreams come true," Secerbegovic said. "I am excited for what the future holds, and I cannot wait to be successful."

Chapparo is undecided on a major, but would like to pursue a path in the sciences or arts. Holter and Robert will both be working toward becoming teachers. Holter said she would like to earn a degree in elementary education, while Robert will pursue biology with the goal of becoming a science teacher. Jensen will be pursuing her academic goals in the Science, Technology, Engineering, and Mathematics (STEM) fields with an interest in nursing.

There were 25 scholarship applicants. Recipients were chosen based on academic excellence, financial need, and essays about their personal and career goals, obstacles to their education, and plans to give back to the community.

For more information about the Edmonds CC Foundation, visit edcc.edu/foundation.
Media Contact Info
Laura Daniali
425.640.1513
laura.daniali@edcc.edu