News Archive
Edmonds CC receives accolades, reaccreditation from NWCCU
09/06/17
Edmonds Community College recently reaffirmed its standing as a Northwest Commission on Colleges and Universities (NWCCU) accredited college and received accolades for its emphasis on equity and inclusion and commitment to student achievement, experience, and success, among others.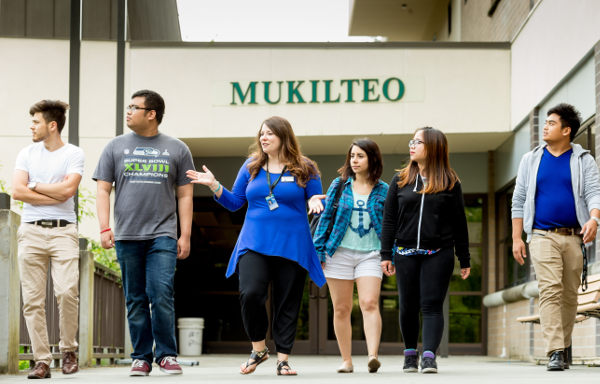 Edmonds Community College was recently reaccredited by the Northwest Commission on Colleges and Universities.

"The Commission applauds the college's faculty for their impact on student learning outcomes and teaching practices, and the exemplary partnerships among faculty, local business, and community organizations," said NWCCU President Sandra Elman. "Additionally, the Commission commends the college for its collaborative efforts to achieve the strategic goals of student success and progression."

Edmonds CC received its first accreditation in 1973. Since that time, the college has been continuously accredited by the NWCCU.

"We continuously seek to understand what is going well at the college and to better understand the challenges we face as an institution, in order to take actions that more effectively help our students succeed," said Edmonds CC President Dr. Jean Hernandez.

NWCCU gave Edmonds CC commendations for:
• Its emphasis on reinforcing the college's core value of diversity, inclusion, and respect through multiple institutional actions;
• Faculty, staff, and administration for their strong commitment to student achievement, experience, and success;
• Faculty for their extensive use of high impact practices, including the service learning program, undergraduate research, the Honors program, and many others;
• Instructional faculty for their commitment to excellence in the classroom, through distance education, and outside the classroom with the promotion of student research, competitions, and hands-on activities;
• Collaborative efforts to achieve strategic goals of student access, progression, and improved experience;
• Employees for their commitment to respect for one another, their communities, and their students.

Accreditation is an ongoing NWCCU process that is reaffirmed by periodic self evaluations. Edmonds CC completed its Year Seven Self-Evaluation Report, evaluating its mission and core themes; resources and capacity; planning and implementation; effectiveness and improvement; and mission fulfillment, adaptation, and sustainability. The report was then reviewed by a team of four evaluators who also visited the college in early summer.

NWCCU is a regional postsecondary accrediting agency recognized by the U.S. Department of Education. It oversees regional accreditation for 162 institutions in Alaska, Idaho, Montana, Nevada, Oregon, Utah, and Washington.

To learn more about Edmonds CC's accreditation, visit edcc.edu/accreditation.
Media Contact Info
Laura Daniali
425.640.1513
laura.daniali@edcc.edu