News Archive
Edmonds CC Foundation, with support of title sponsor Vivacity, raises $54,300 at 5K Walk and Run
11/07/17
Nearly 400 runners and walkers participated in the Edmonds Community College Foundation's second annual 5K Walk and Run on Saturday, Oct. 28, and raised over $54,000 for student scholarships, emergency funding, and learning support services.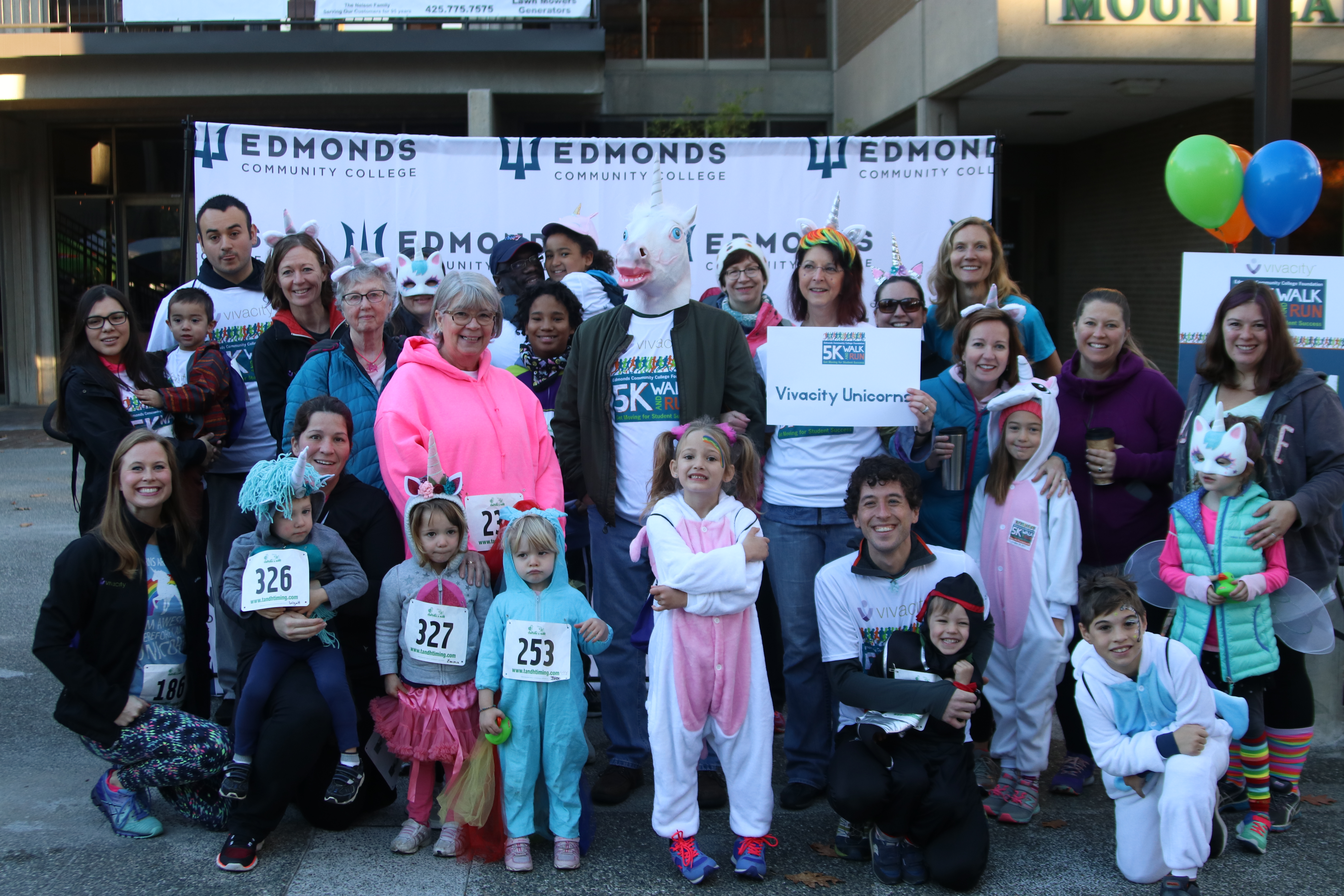 Donning unicorn costumes, Edmonds CC's 5K Walk and Run title sponsor Vivacity won the team costume contest.
"Faculty, staff, students, and board members all turned out to get moving for student success," said Brad Thomas, Edmonds CC Foundation executive director. "Local businesses and corporate partners stepped up with event sponsorships and teams, while community and campus volunteers provided critical support to the event.
"The sun shone, and so did our community."
Throughout the course, participants were treated to student-created vignettes. Students from the college's Engineering Club and music department provided entertainment and encouragement. Nearly 100 student volunteers gave their time to cheer on runners and walkers.
Culinary Arts students prepared and served fruit- and veggie-infused smoothies to keep runners and walkers, and even those in strollers, going through the home stretch.
The course also provided participants with a tour of the Edmonds CC campus, highlighting the campus community garden and horticulture department, Center for Families, Triton Field, and more.
Individual winners were: Anthony Garcia, first place, 17:28; Kohei Mori, second place, 17:30; and Drew Gutsherl, third place, 17:45.
Doning unicorn costumes, title sponsor Vivacity and its team took home the team costume contest award. KING 5 Morning News anchor Jake Whittenberg emceed the event, and Foundation board member Adam Cornell was the event chair.
"There are a lot of people who are backing the support of our students at Edmonds CC," Thomas said. "Thank you to those who took part and for making a contribution to ensure students have the resources they need to realize their educational goals and dreams."
Other event sponsors included: Community Transit, The Daily Herald, Harbor Square Athletic Club, Carter Subaru, ServPro of Edmonds, The Everett Clinic, Exceptional Properties, Lynnwood Honda, and the Cheesemonger's Table.
To learn more about the Edmonds CC Foundation or make a donation, visit edcc.edu/foundation.
Media Contact Info
Laura Daniali
425.640.1513
laura.daniali@edcc.edu