News Archive
New book by Edmonds CC instructor explores contemplative practices for teaching sustainability
01/17/17
A new collection of essays co-edited by Edmonds Community College English instructor Holly Hughes explores the use of reflective and contemplative practices for teaching sustainability to college students.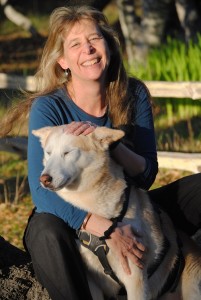 Holly Hughes, Edmonds CC instructor, author, and editor (photo credit: Isolde Pierce)

In "Contemplative Approaches to Sustainability in Higher Education," Hughes and co-editors Marie Eaton of Western Washington University and Jean MacGregor of The Evergreen State College provide guidance on how to use contemplative practices, ranging from offering a few minutes of silence before a discussion to using mindfulness practices to teach students how to address multiple perspectives in the classroom.

"By introducing our students to these practices, we can take sustainability learning to a deeper level that addresses our students' emotions and behaviors as well as their knowledge," Hughes said.

According to Hughes, the collection addresses both the philosophical rationale and practical challenges of using such practices in the classroom and draws on the expertise of faculty from a wide variety of disciplines.

In 2009, Hughes joined a team of faculty from two- and four-year universities across Washington state to participate in the Curriculum for the Biosphere project, which brought together faculty from 2007-2013 to create classroom activities to enhance students' understanding of sustainability issues.

"The book was an outgrowth of our good work together over the past seven years," Hughes said.

Hughes was among 14 other Edmonds CC faculty members who also participated in Curriculum for the Biosphere learning communities. MacGregor was the senior scholar and director of the program, which began as an initiative of the Washington Center for Improving the Quality of Undergraduate Education at The Evergreen State College.

"One of the strengths of this collection is that it draws from a variety of disciplines," Hughes said, "and we hope it will provide ideas and inspiration for faculty teaching a variety of subjects––not just environmental science, which is the subject where sustainability is most often taught."

As a contributor to the book, Hughes shared examples of reflective practices she's used in her essay, "The Practice of Place: Deepening Connections to Our Natural and Human Communities."

She has taught a variety of sustainability-focused interdisciplinary classes for over 20 years, having taught English 101 as a stand-alone class with a natural history and sustainability focus and "Exploring Natural History in Word and Field" with Dr. Hans Landel, formerly of the Edmonds CC biology department.

"For years, I've incorporated reflective and contemplative practices into my courses in simple ways, such as by sharing a relevant poem and asking students to reflect on it in silence before discussing it, or inviting a few moments of silence before a writing assignment," Hughes said.

Hughes tasks her poetry students with writing poems of witness about an environmental or social justice issue, which requires research. Before the students begin writing, she encourages them to sit in silence with the facts and knowledge they've gathered and see if an emotion or image emerges.

"They often report that this contemplative time allows them to move beyond the facts and statistics into the emotions and imagery that will make the poem stronger and more effective," she said.

Eaton's essay, "Navigating Anger, Fear, Grief, and Despair," offers exercises for faculty to help students navigate those challenging emotions as they learn more about climate change and how it will impact future generations, while other essays offer ways to get students to engage and cultivate "active hope."

Hughes said the book is intended for faculty, but it could also be of interest to staff and administrators who wish to support faculty in deepening their teaching of sustainability.

The book is available at Routledge.com. For more information on sustainability practices at Edmonds CC, visit edcc.edu/sustain.
Media Contact Info
Laura Daniali
425.640.1513
laura.daniali@edcc.edu