News Archive
Edmonds CC students to resolve real-life scenarios in Ethics Challenge
01/31/17
Twenty-five Edmonds Community College students from various academic programs will compete in an Ethics Challenge sponsored by the college's Business Management program and Workforce Development and Training, in partnership with The Boeing Company.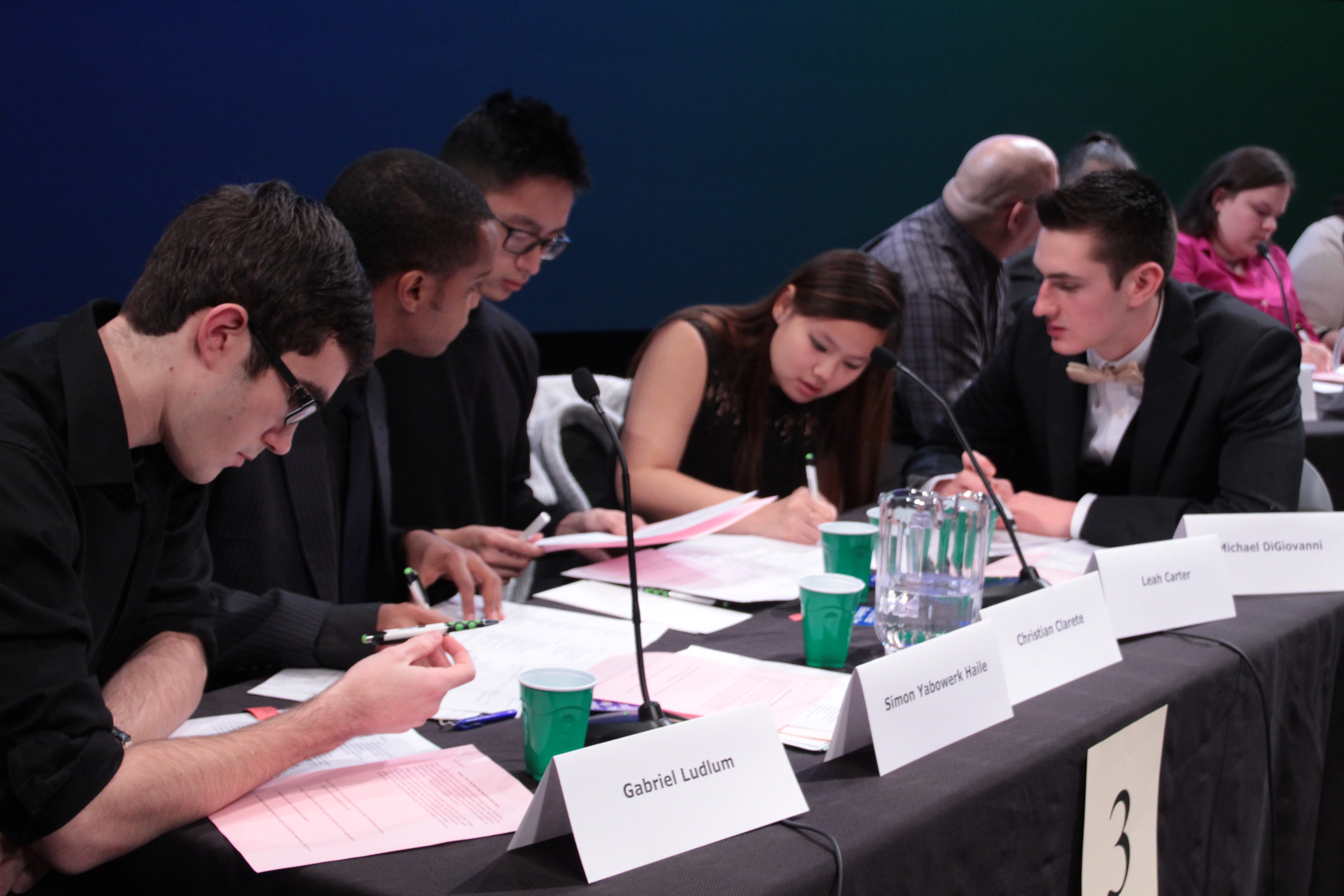 Edmonds Community College students compete in an Ethics Challenge.
The competition — free and open to the public — will be 1:30-3:30 p.m. Thursday, Feb. 16, in the college's Black Box Theatre on campus, 20000 68th Ave. W, Lynnwood.
The Ethics Challenge is an engaging and high energy learning event designed to teach ethics through real life scenarios.
Five student teams compete in analyzing and providing solutions to ethics cases.
Each team — using teamwork, communication, and critical thinking skills — will be given seven minutes to discuss its given scenario and three minutes to present solutions. Audience members are also active participants in the learning process.
Both Edmonds CC and The Boeing Company will supply the judges. Students to participate are:
• Associated Students of Edmonds CC (ASEdCC): Maria French, Tri Minh Do, Natcha Sriwongthai, Naol Debele, and Linh Tran.
• Business Management/Business Information Technology: Taylor Hetherington, Aleka Padilla, Su Ting Chin, Christopher Hund, and Clarsach Bartram.
• Business Management: Alejandro Villasana, Ashley Dembroski, Lance Ward, Crystal Lovelace, and Chase Hales-Curry.
• Business Information Technology: Sharon Hagerman, Candace Stannert, Leonardo Zambrano, Kimberly Greene, and Rani Mudaliar-Hall.
• Paralegal: Kimberly Nicol, Julian Ramos, Jill Reasoner, Isaiah McKinney, and Bronwyn Sinclair.
All participants have been invited to a VIP Boeing tour in Everett on March 3. The event is sponsored by Edmonds CC Workforce Development and The Boeing Company.
Media Contact Info
Laura Daniali
425.640.1513
laura.daniali@edcc.edu