News Archive
Rep. Rick Larsen visits with Edmonds CC 'Dreamers,' DACA students
03/17/17
Washington state Rep. Rick Larsen visited with undocumented, immigrant students March 9 at Edmonds Community College. Edmonds CC "Dreamers" and DACA students, or students who are protected under the Deferred Action for Childhood Arrivals program, shared stories of "living in the shadows" and their fears about possible deportation under the new presidential administration.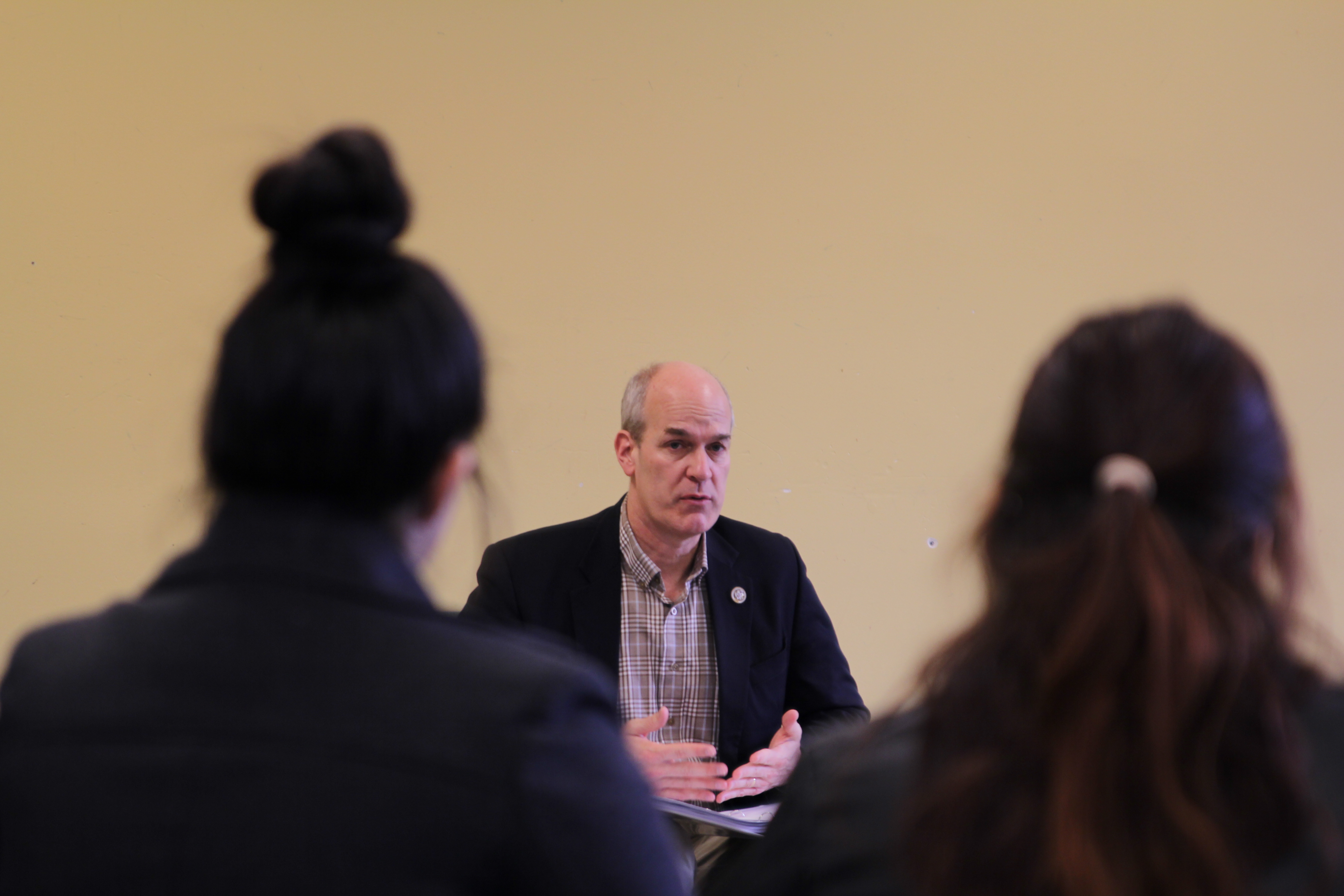 Washington state Rep. Rick Larsen visited with Edmonds CC "Dreamers" and DACA students on March 9.
"We are here. This is our home," said Jay, a 26-year-old student who's been in the U.S. since the age of 2. "If I have to go somewhere else, I'd have to start over."
Jay works at a local retail store, and said he's a hard worker who would like to give back to this country and thank his parents for the sacrifice they made.
"It wasn't my choice," he said, "but I'm happy that they made the choice."
Larsen expressed his concern for the students, and said he would take a stand for them.
"I wish I could assure every DACA student here and every DACA student in the country that things are going to be OK under this administration," Larsen said, "but the reality is I don't know.
"However, I do know this: As Dreamers, I know that you've gone through elementary school, you've gone through middle school and high school here in Washington state. If the administration moves to deport DACA students, I, and many of my colleagues and your friends and people you don't know, will stand up, and we'll fight any effort to do this."
Graciela, an Edmonds CC Latina student, said her culture is centered around family. She encouraged Larsen to remember the significance of family and familial support to "Dreamers" and DACA students and to continue to stand for individuals and their families, too.
Graciela and her husband have lived in Washington state for 13 years. They also decided to start their own landscaping business at that time, despite having no prior knowledge of how to run a business.
"Over the years, our business has been steady, and our company has grown," she said. "When I'm done with school, I'm going to invest even more in the business."
Graciela is working toward an Associate of Technical Arts in Horticulture in Landscape Design. She said they already contribute to the economic health of the community by paying taxes, and she looks forward to contributing more to the community when she completes her degree.
"Getting an education gives us an opportunity to excel and to do better for the community," Graciela said. "For any immigrant who has the opportunity to get an education, you're going to get in return over and over what was invested."
Media Contact Info
Laura Daniali
425.640.1513
laura.daniali@edcc.edu