News Archive
Edmonds CC culinary student wins Microsoft, James Beard Foundation EPPIC cookoff
04/27/18
An Edmonds Community College culinary arts student won first place in a Microsoft and James Beard Foundation culinary competition for students.

Edmonds CC student chef Irma Jimenez won the first Experienced Professionals/Pupils in Culinary (EPPIC) competition in mid-April. She took home a Microsoft Surface tablet, and her dish will be a featured h'ordeuvre during the James Beard Foundation's Celebrity Chef Tour Seattle in July.

Jimenez's winning dish featured Mexican mole marinated bison, in which she used a mole rub instead of a more traditional sauce. More about her dish below.

"My dish reflected my Mexican heritage," Jimenez said. "I'm deeply rooted in my heritage, and I wanted to showcase that there's more to Mexican food. It can be elevated."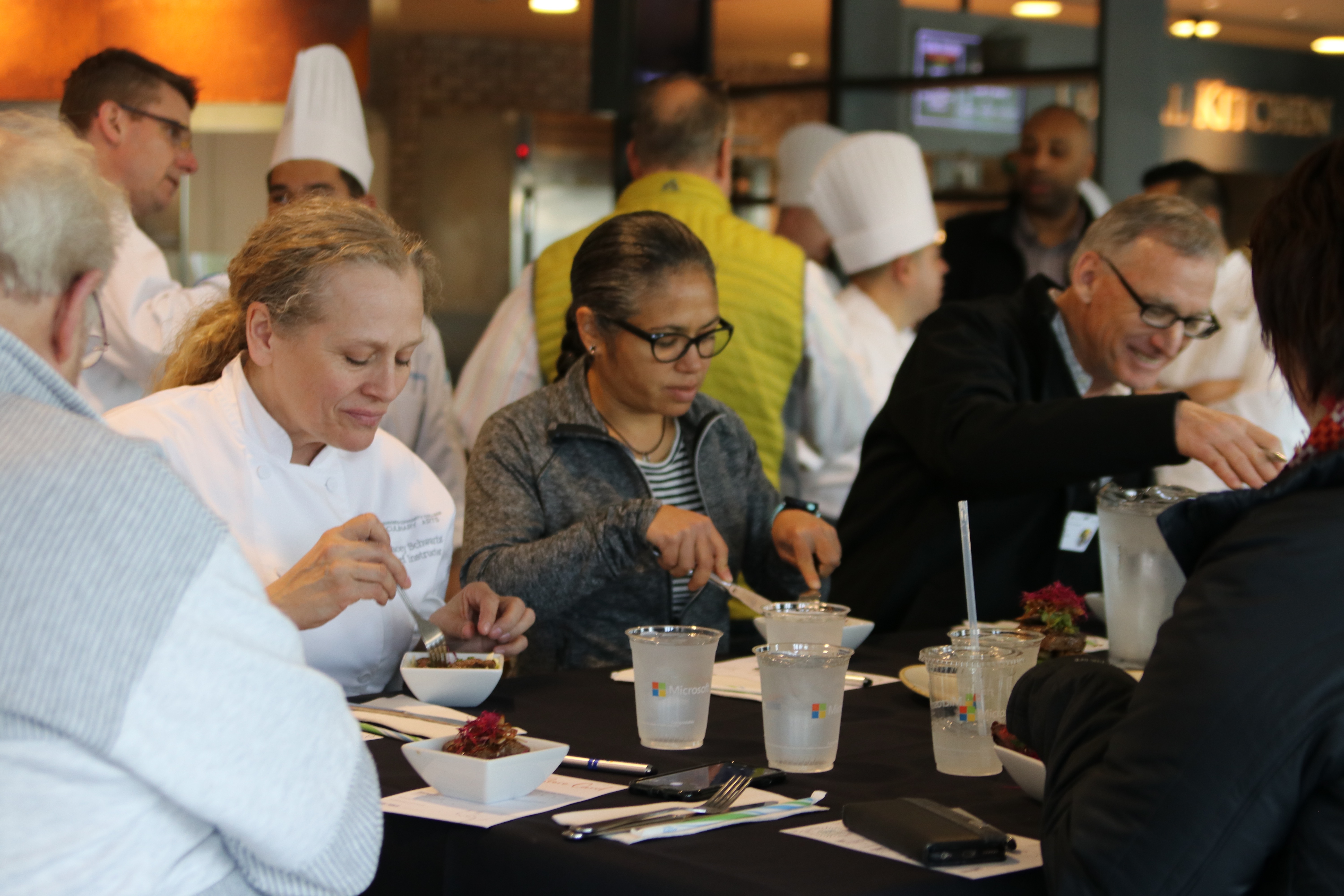 (from left to right) Edmonds CC Culinary instructor Stacey Schwartz and Celebrity Chef judge Maria Hines.

The competition was a collaboration and partnership between Dining at Microsoft, Microsoft's on-site dining operation, and the James Beard Foundation (JBF). It paired eight community college culinary arts students – four from Edmonds CC and four from South Seattle College – with eight Dining at Microsoft chefs for a two-day whirlwind competition with celebrity chef judges.
Judges included: John Flocchini, Durham Bison Ranch owner; Mark Freeman, Microsoft's RE&F senior manager, Global Dining Services; Mimi Hillenbrand, 777 Bison Ranch owner; Maria Hines, JBF award-winning chef and owner of three Seattle restaurants; Kim Marshall, chef and Slow Food Seattle Executive Director; Katherine Miller, JBF senior leader; Todd Rawlings, Microsoft senior quality engineer; and Gerry Warren, Slow Food USA regional governor.

The students were given about a month to design a dish and work with their assigned chef to refine the recipe. On day one of the competition, the students did prep work, some up to 10 hours, in the Microsoft kitchens.

Day two was the culmination of the EPPIC competition where the student chefs were immersed in the Microsoft campus dining experience and worked in some of the campus's busiest restaurant kitchens. And, don't let the word "café" in the restaurant names below fool you. There are seven cafés among more than 90 dining destinations on the Redmond campus, serving nearly 40,000 people daily.

The National Bison Association and Slow Food USA also sponsored the competition, and the students prepared each of their signature dishes with top quality bison sirloin provided by Durham Ranch of Wyoming.
Edmonds CC's student chefs, their signature dishes, and inspiration:

(from left) Chef Bryan Brooks and Irma Jimenez. Photo courtesy: Middle, Dining at Microsoft
EPPIC first place winner – Irma Jimenez
Jimenez collaborated with Chef Bryan Brooks of Café 16 to create a Mexican mole marinated bison, roasted corn puree, grilled broccolini, endive salad topped with Mojo de Ajo, which is a chimichurri-style sauce with onions and garlic, and toasted anchovy pepitas.

Inspired by her culture, Jimenez said the dish she chose has a deeper meaning and significance.

"I know there's a lot of different political views about Hispanic people, and especially Mexicans, right now," Jimenez said. "I wanted to show that there's more to us than what they say in the news.

"There's more goodness, and I know that just me being out there and showing what I'm doing will hopefully inspire someone else to go out and show that they can do whatever they want despite what others say."

Jimenez has been cooking since she was little. At first, she'd just watch her mom, who would scoot her out of the kitchen. Eventually, her mom let her join in, and Jimenez has been cooking ever since.

Jimenez said the Edmonds CC kitchen is a supportive environment where the instructor and student chefs all help each other.

"The instructors are always there for you," she said. "They're so passionate about what they do, and they pass along that energy and inspire you to keep going, keep researching, and keep learning – even outside of the kitchen."

Jimenez has been interning at Lao Bar Restaurant on Capitol Hill in Seattle and learning how to make Thai food. She'll be graduating from Edmonds CC in June.

"I just want to learn how to cook," she said. "I don't want to learn a specific cuisine. I just want to learn it all and see how that translates into what I want to do."
(from left) Chef Marcus Swearingen Photo courtesy: Left, middle-Dining at Microsoft
Aytaç Balkaya
Balkaya teamed up with Chef Marcus Swearingen of Café 31 to feature a rosemary seared bison sirloin flambéd, or "ceramic glazed" with brandy, a wild mushroom sauce with oyster, cremini, porcini, and black trumpet mushrooms; root vegetables; fondant potatoes; and fresh microgreens as a garnish.

Balkaya's dish was inspired by a recipe he learned from his stepmom, who is a former chef. Balkaya is from Turkey, which he said is "conservative," so it took awhile for him to warm up to his stepmom after his parent's divorce. Learning to make the sauce and cooking with her was an "ice breaker" between them, and he was inspired by what she taught him. He adapted the sauce, which was originally intended for steak, for bison.

The fondant potatoes were inspired by Chef Thierry Rautureau, who's better known as the "Chef in the Hat," of Loulay, a French restaurant in downtown Seattle where Balkaya interned.

Balkaya is competitive, and said he likes the pressure of a restaurant kitchen – "the shouting, all of the things going on the stove top, people coming and going, tickets flying" – and the smiles.

"When I cook and I see someone taste what I've made, and the smile on their face," he said, "that's what inspires me."

(from left) Kyle Ronquillo, Chef Jason Fuller, and judge John Flocchini Photo courtesy: Middle-Dining at Microsoft
Kyle Ronquillo
Ronquillo worked alongside Chef Jason Fuller of Café 43 to create a Filipino-inspired dish. Ronquillo marinated the bison in a Filipino-style adobo stock and then seared it, serving it with garlic fried rice, charred bok choy, and a pico de gallo made with green mango, heirloom tomatoes, green onions, and fish sauce. He topped it off with a drizzle of bright green miso and tahini herb sauce.

When Ronquillo joined the Culinary Arts program at Edmonds CC, he wasn't interested in cooking Filipino cuisine, "my people's cuisine." But over time, that changed, and it was reflected in the dish he created for the competition. Born and raised on a military base in Nagasaki, Japan, Ronquillo said his grandmother was "The Caterer" for the Filipino community.

"The No. 1 person they would call was my grandma," Ronquillo said. "I used to help her out and carry a lot of equipment and food. We would take bullet trains to each base and bring food and cater different Filipino events.

"I was always the little guy cutting or rolling lumpia [Filipino egg rolls] up."

Ronquillo has been interning at TanakaSan, a Tom Douglas restaurant in Seattle, and humbly said he would like to be the next Tom Douglas. He wants to own and operate his own restaurant and put Filipino food "on the map" in the U.S.

(center) Riley Timmerman Photo courtesy: Middle-Dining at Microsoft
Riley Timmerman
Timmerman worked with Chef Kristin Dougherty of Café 34 to create a dish featuring Thai-cured bison sirloin with a crispy aromatic rice cake, a green curry coconut sauce, Thai chili caviar with pineapple powder, and deep fried lemongrass fibers for garnish.

Timmerman was inspired by his Hawaiian heritage and bold Asian flavors. By chance, he was paired up with Dougherty, who's also from Hawaii and understood the flavors and "island vibe" Timmerman was going for. In addition to the flavors, Timmerman was able to learn and execute some molecular cuisine techniques, which explore the science of cooking.

With a longing for world travel, Timmerman said he chose culinary arts as a ticket into learning about other cultures. He's looking into going to La Roche, a Swedish hospitality school, or traveling around Europe and Asia and working "small jobs for short amounts of time" in kitchens around the world to learn as much as he can about different cuisines.

Timmerman has been interning at Barkada Edmonds, a fast casual sushi restaurant in downtown Edmonds.

Interested in what Edmonds CC Culinary Arts students are cooking up? There are two on-campus options. Brier Grill offers grab-and-go fare for a quick bite. The Grill features homemade pastries, wood-fired pizzas, pastas, and more made by students. The College Café is a full service restaurant run by Edmonds CC culinary students and features a new menu each week that is created, prepared, and served by student chefs.

Visit edcc.edu/foodservices to view menus and hours. For more information on Edmonds CC's Culinary Arts program, visit edcc.edu/clart.
Media Contact Info
Laura Daniali
425.640.1513
laura.daniali@edcc.edu