News Archive
Scholarship recipients give back, volunteer at Edmonds CC Foundation Gala
05/01/18
More than 20 Edmonds Community College Foundation scholarship recipients will volunteer at the Foundation's annual gala on Saturday, May 5. The gala is an annual celebration and fundraising event for scholarships, emergency funding, and investments in innovative teaching and learning programs and projects at Edmonds CC.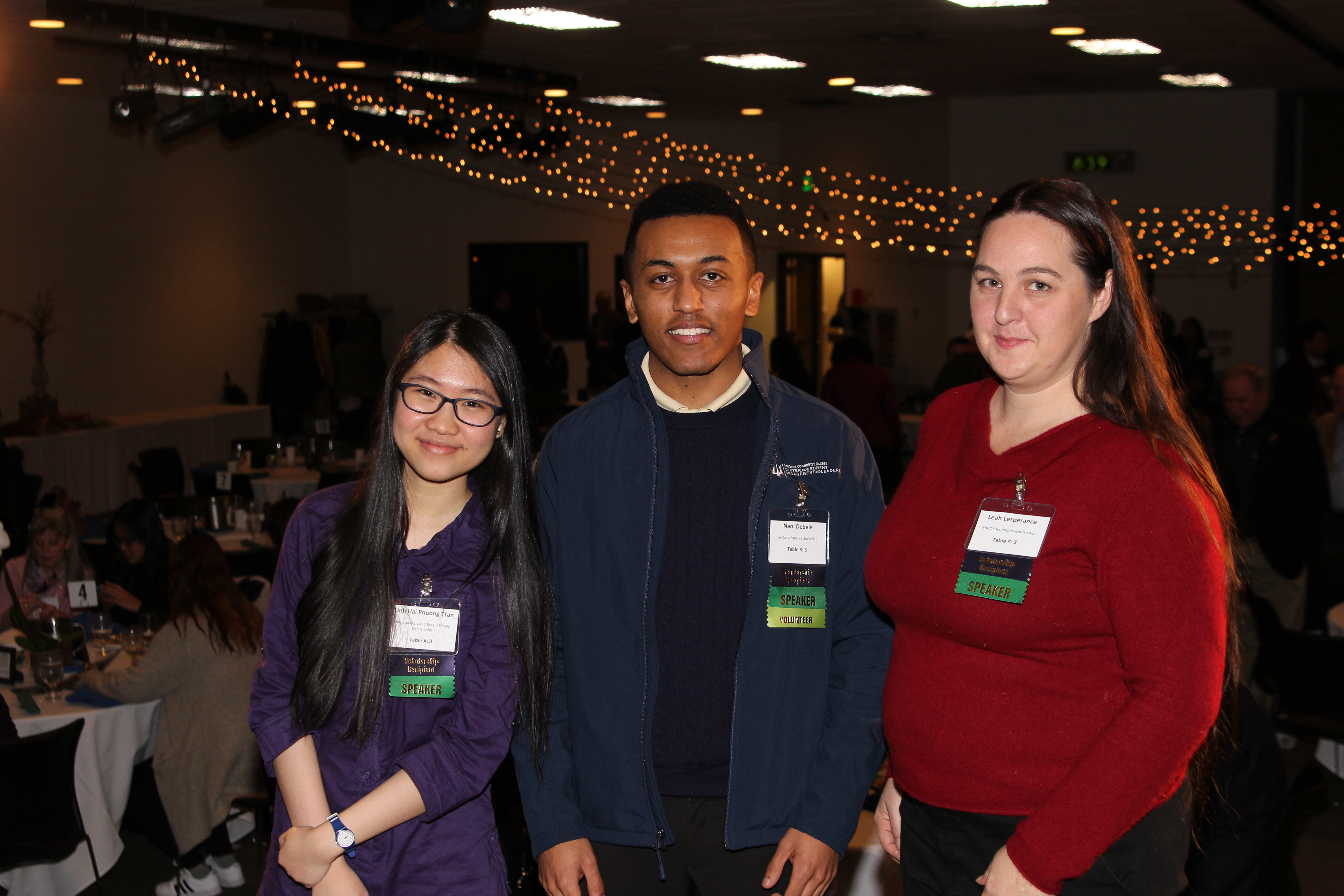 (from left to right) Edmonds CC Foundation scholarship recipients Linh Tran, Naol Debele, and Leah L'esperance

"I really appreciate the Foundation scholarship as well as Edmonds Community College," said scholarship recipient Linh Tran. "That's why I come back to volunteer. I'm really grateful for what I have received and I want to give back, and I want to see all of the donors again, all of the people who have helped me and share with them how I'm doing and how the scholarship has helped me to succeed."

Tran, 19, was the recipient of the 2016-17 Barbara Maley and Britain Family scholarships, and graduated from Edmonds CC with an accounting degree. She now works at an investment firm in downtown Seattle and is planning to continue on to a four-year university in the fall.

The 2018 "Completing the Dream: Making Futures Bright for Students" gala will be held at the Seattle Grand Hyatt with a goal to raise $330,000. Foundation scholarship recipients will be greeting guests and assisting with the gala's most popular events – the jewelry raffle and dessert dash, featuring desserts prepared by Edmonds CC Culinary Arts students.

"Volunteers play a critical role in the success of the event, and we are thrilled to see so many scholarship recipients giving their time to help their community," said Edmonds CC Foundation Executive Director Brad Thomas. "By helping with the event, they are a part of ensuring even more students to have access to the same transformational scholarships they have received."

Edmonds CC student government leaders and dedicated Edmonds CC employees who believe in the Foundation's mission will also be assisting with the event.

If you are unable to attend but would still like to give, the Foundation invites the community to raise a "Virtual Paddle" by giving a gift online at edcc.edu/foundation.

Many thanks to this year's lead sponsors: Premera Blue Cross, Title sponsor; Associated Students of Edmonds Community College, Dream Maker sponsor; and Impact Maker sponsors The Boeing Company, Carter Subaru, Comprehensive Wealth Management, Harbor Square Athletic Club, and Dean and Carla Nichols.
Media Contact Info
Laura Daniali
425.640.1513
laura.daniali@edcc.edu