News Archive
Gov. Inslee meets with inmates earning college credit while in prison
06/04/18
Amidst the whirr of circular saws and sawdust covered floors, Washington state Gov. Jay Inslee spoke with Monroe Correctional Complex (MCC) inmates who are learning the carpentry trade and earning college credit – while in prison.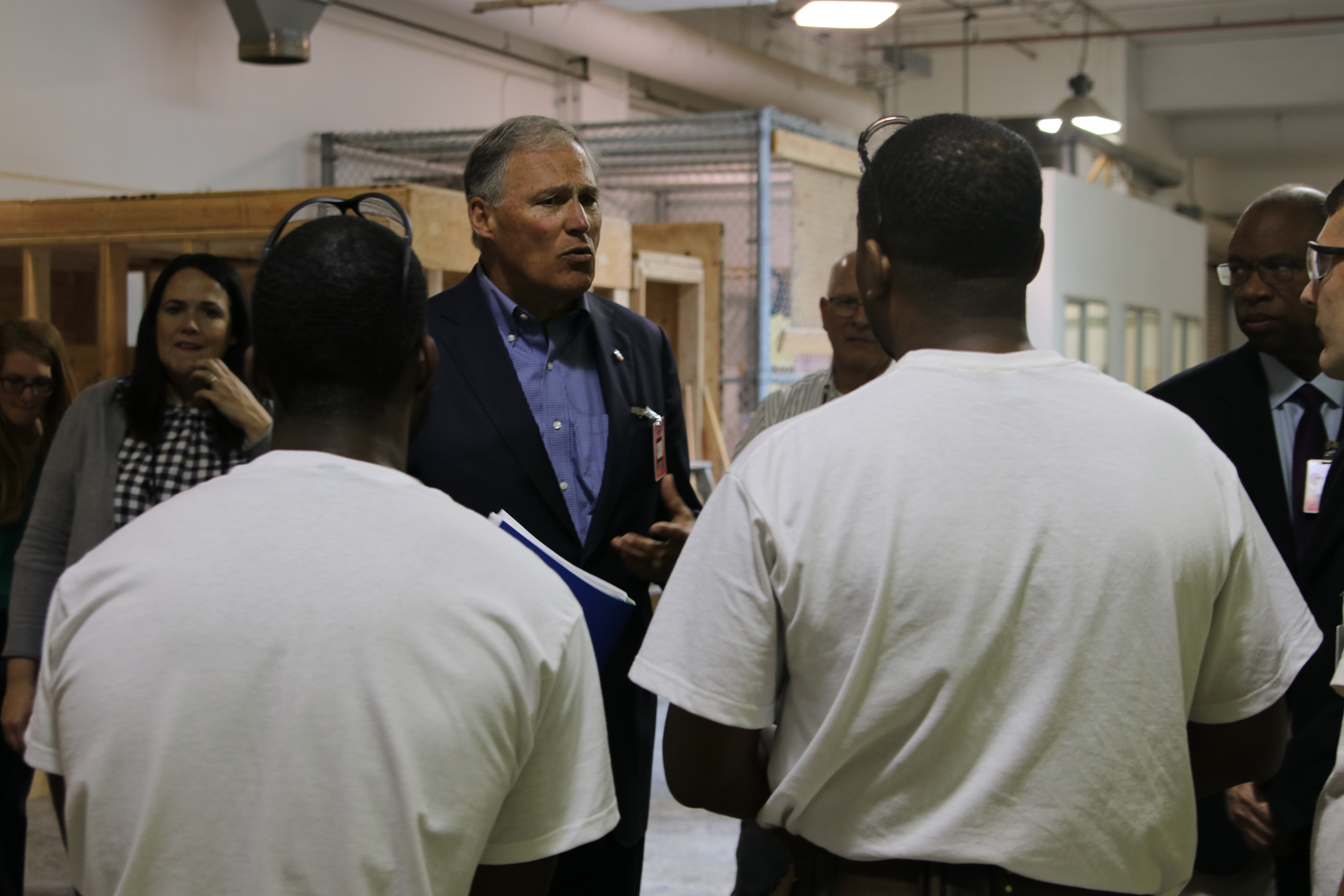 On Thursday, Gov. Jay Inslee visited with inmates at Monroe Correctional Complex who are also students in Edmonds CC's College in Prisons program.

On Thursday, Gov. Inslee met with incarcerated men at MCC in Monroe, Wash. who are students in Edmonds Community College's College in Prisons program and are working toward certificates in building maintenance.

"The vast majority of the folks here at Monroe are going to be our neighbors at some point, and we want them to be good neighbors who have jobs," Inslee said.

"There's some really good work going on at Monroe. I think it's a really good investment to make sure these folks when they come out have a skill set, they have jobs, and can stay out of a life of crime. That's a good thing for all of us."

According to the U.S. Department of Justice, inmates who participate in corrections education programs have 43 percent lower odds of returning to prison.

Edmonds CC has offered pre-college and post-secondary level classes at MCC for more than 30 years through contracts with Washington State Board for Community and Technical Colleges and Washington Department of Corrections (DOC).

In 2017, Inslee signed Senate Bill 5069 which allows the DOC to partner with community and technical colleges to offer two-year workforce degrees to those in the prison system. Edmonds CC now offers an associate's degree in business.

In 2015-16, students in the College in Prisons program at MCC earned 66 certificates in business management, 86 in building trades, five in carpentry, 12 in horticulture operations, and 91 percent of students that tested for their GED passed. Winter quarter saw a peak in enrollment with 482 students.

"The students are serious about what they're doing, and they know it's going to change their lives," said Dr. Wanda Billingsly, dean of Education at MCC.

Billingsly joined Edmonds CC in September. During her first year, she's working hard to provide educational programs at MCC with the necessary infrastructure needed to ensure that the educational services, instructional programs, and necessary functions are realized.

"It's our belief, when we educate incarcerated inmates, we prepare them to return to their communities as productive citizens," Billingsly said.

The college's support for the incarcerated does not end upon their release. Edmonds CC's Next Steps program provides support for individuals and their families who have been involved in the criminal justice system as they prepare for education and reentering the workforce.

The Edmonds CC Foundation also offers the Hernandez-Foy Second Chance Endowed Scholarship to those with histories of incarceration or homelessness. The Foundation will award two scholarships at an upcoming Edmonds CC College in Prisons graduation at MCC.

For more on Inslee's visit, watch KIRO 7's news coverage, "Governor tours Monroe prison program to help inmates succeed when released," and read the Monroe Monitor's story, "Inslee visits Monroe Correctional Complex: Gov. learns about vocational programs inside prison."
Media Contact Info
Laura Daniali
425.640.1513
laura.daniali@edcc.edu