News Archive
Edmonds CC Foundation to award 235 scholarships to support student success
06/28/18
For the first time in 15 years, the Edmonds Community College Foundation will award a record number of scholarships — over 235 scholarships to students in amounts up to $4,500.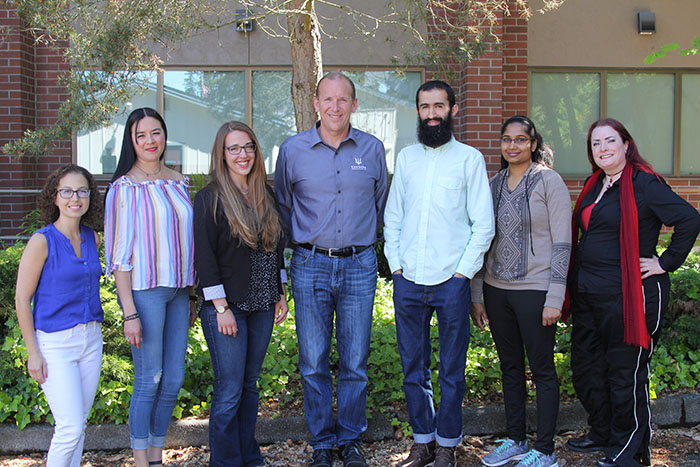 Edmonds CC Foundation Executive Director, Brad Thomas meets with 2018-2019 scholarship recipients. (from left to right)
Sabrina Hernandez, Jennifer Corona, Joanna Coleman, Edmonds CC Foundation Executive Director Brad Thomas, Nedir Ziane,
Kiranpreet Kaur, and Katherine Merriwether
This includes annual scholarships, Complete the Dream scholarships for students in the last quarter of their program, and department- and donor-designated scholarships. These scholarships provide students with the critical funding they need for tuition, books, and fees.
Scholarship recipient and international student Nedir Ziane said he was unsure about how he was going to afford his tuition and receiving a scholarship gives him hope. He's pursuing an Associate in Science in Chemical Engineering degree and plans to transfer to a four-year institution to pursue a career in gas and oil specialization.
Ziane also received a scholarship last year and volunteers with the Foundation as a way to give back to the community that has shown support for his educational goals.
Dale Terwedo, founder and CEO for TFS Advisors in Edmonds, gives annually to support scholarships for student veterans.
"We believe education unlocks doors and we want to help those that have served and need a little extra assistance," Terwedo said. "This scholarship is our opportunity to give back in a way that will reap benefits for years and years."
In 2017, Terwedo established the TFS Advisors Veterans Scholarship, which provides $1,000 per quarter for a student veteran or immediate family member of a fallen soldier to attend Edmonds CC. This year's recipient is Katherine Merriwether.
Merriwether is an Air Force veteran who is pursuing an Associate of Technical Arts degree in Information Security and Digital Forensics.
According to Merriwether, the scholarship is setting her up for success in her pursuit of a bachelor's degree in cybersecurity.
Part of the increase in scholarships this year is due to the generosity of Foundation donors who gave more than $340,000 in May at the Foundation's annual gala and auction.
"We are so grateful for the generosity of this community," said Brad Thomas, executive director of the Foundation. "While we are thrilled to provide more scholarships this coming year, there is still a great need for our students. About 61 percent of Edmonds CC students have some form of financial need, and we want to enable all our students to succeed.
"We believe education has the power to transform lives, and together, we can continue to help more students on their path to their goals."
This year, the Foundation also awarded two scholarships to students in the Edmonds CC College in Prisons program at Monroe Correctional Complex in Monroe, Wash. This is the first time scholarships have been awarded to Edmonds CC students who are incarcerated. Read more here.
To learn more about starting a scholarship fund for Edmonds CC students, contact Brad.Thomas@edcc.edu or call 425.640.1884. To learn more about the Edmonds CC Foundation or make a donation, visit edcc.edu/foundation.
Media Contact Info
Marisa Pierce
425.640.1697
marisa.pierce@edcc.edu