News Archive
Edmonds CC hosts Amazon hiring event, more than 150 job offers made
08/28/18
Over a two-week period, Amazon set up shop at Edmonds Community College for a hiring event that brought in more than 240 applicants. Of those, 159 received contingent job offers on the spot.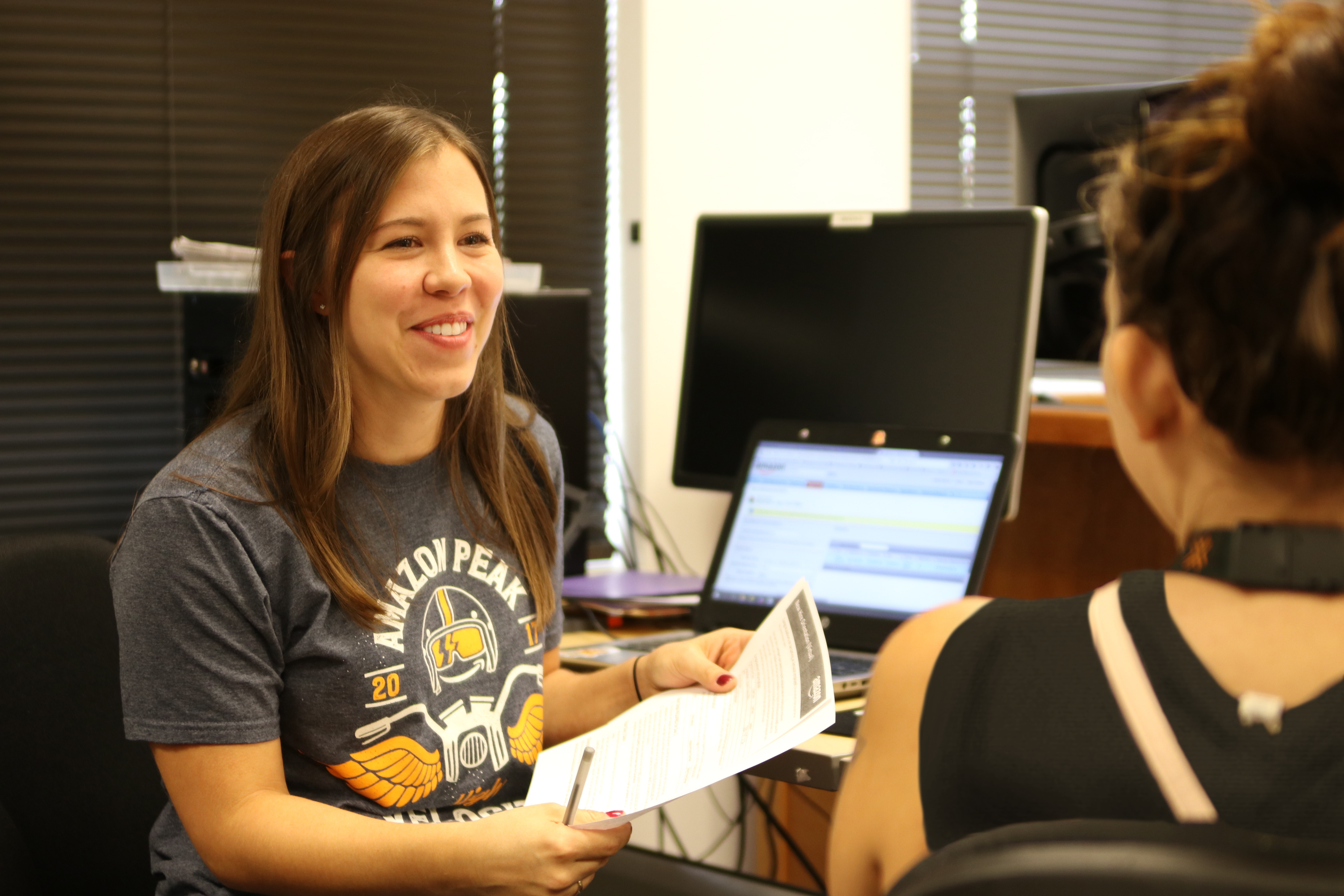 Amber Cavelti, Talent Supply Chain and Engagement Sr. Coordinator for Amazon, helped more than 240 people apply for jobs with Amazon Aug. 13-23 at Edmonds Community College.
"The event drew many students as well as community members who came to campus specifically for this," said Anne Penny, director of the Edmonds CC Career Action Center. "It was a great opportunity for the college to connect our students and community members to local job opportunities with one of the state's largest employers."

WorkSource Snohomish County also sponsored the event, which took place from Aug. 13-23.

"We would like to thank Edmonds CC and WorkSource for their partnership in making this event so successful," said Amber Cavelti, Talent Supply Chain and Engagement Sr. Coordinator for Amazon. "The assistance and candidate support you provided new and existing applicants was wonderful, and we look forward to continuing and building upon our connection with you all."
Cavelti led the hiring process, which included open sessions for applicants to apply, learn more about the positions, pick a training session, take a badge photo, and preliminary drug screening.

The online retailer was looking to fill Prime Now Shopper positions for its grocery delivery service Amazon Prime Now. Shopping associates are needed at the Lynnwood and Everett locations to fill Prime customer orders and prepare them for delivery. Hourly pay starts at $15.45.

Once those given a contingent job offer pass the drug test and background check, they will receive an offer of employment from Amazon via email and will be set for training, said Cavelti.

Penny noted that job seekers should remember the importance of customer service skills when looking for employment.

"It's an important part of many jobs, even if the worker doesn't interact with customers directly, their work could directly impact customer service," she said. "That is where trust is important, and customers trust Amazon."

Penny and her team at the college's Career Action Center work to create connections between employers and Edmonds CC students and alumni through career information, job search assistance, internship education, access to retraining, and more.

For more information and events, visit edcc.edu/careeractioncenter. The center is at Mountlake Terrace hall, room 130. Call 425.640.1256 or email careeractioncenter@edcc.edu.

Save the date for An Afternoon with Amazon:
Edmonds CC students and alumni are invited to An Afternoon with Amazon from 2-5 p.m. Tuesday, Oct. 23. An Amazon-led interviewing workshop will be held from 2-3:30 p.m., followed by a networking opportunity with Amazon professionals from 3:30-5 p.m.
Media Contact Info
Laura Daniali
425.640.1513
laura.daniali@edcc.edu