News Archive
Edmonds CC breaks ground for new STEM building, opening 2020
09/14/18
Edmonds Community College celebrated the groundbreaking of its Science, Engineering, and Technology (SET) Building, which is set to open late spring 2020, on Wednesday.

"This new state-of-the-art building couldn't come at a better time, with the demand for STEM careers high, and growing," said Edmonds CC President Dr. Amit Singh.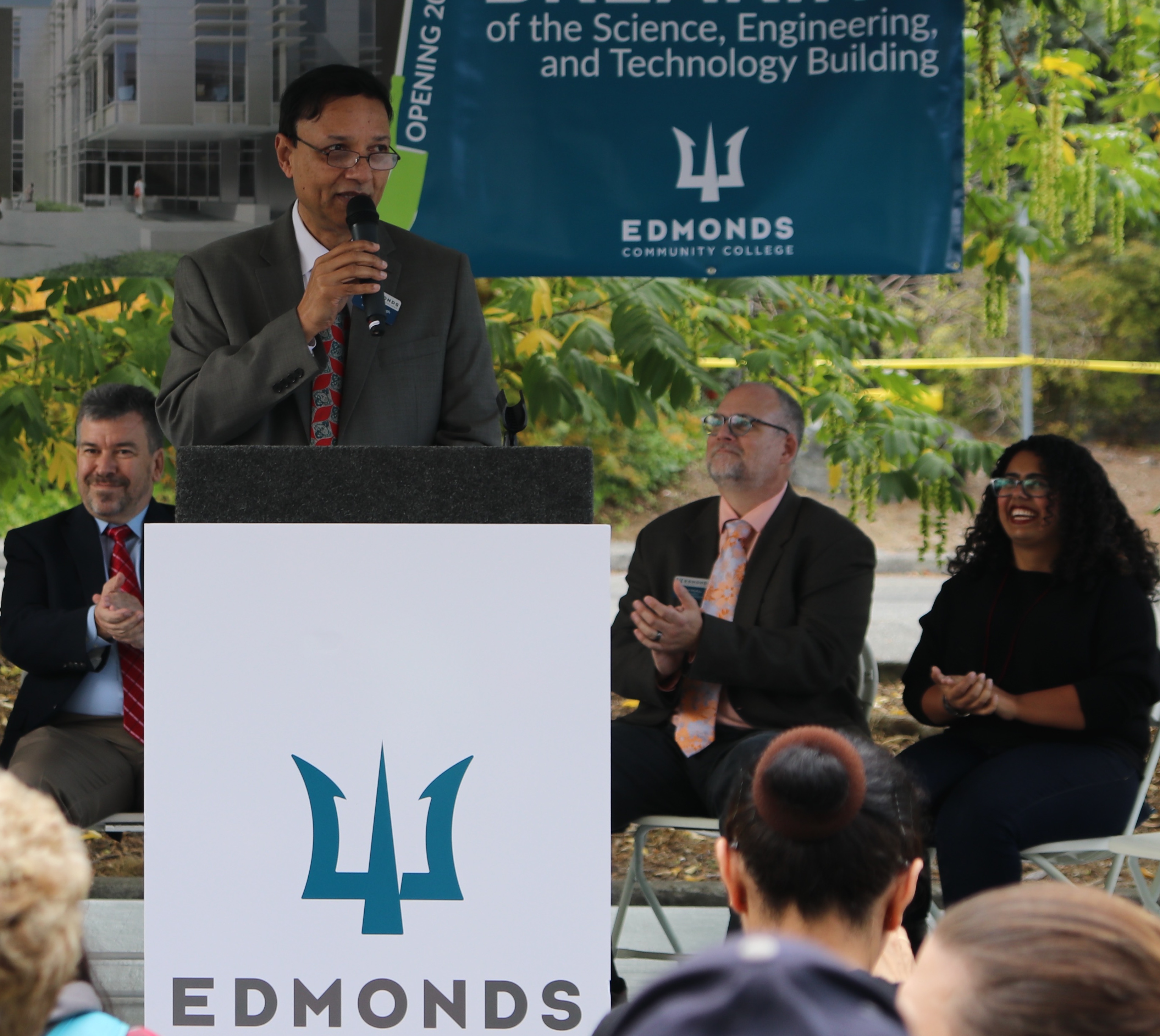 Edmonds CC President Dr. Amit Singh addresses the crowd. More than 150 people were in attendance.
Singh anticipates that the 70,000-square-foot building will be a regional hub for those who want to pursue degrees in Science, Technology, Engineering, and Mathematics (STEM), ranging from engineering to nursing.

Alumna Tina Rajabi said Edmonds CC's STEM programs and faculty prepared her to successfully transfer to University of Washington – Seattle this fall. She noted that the new SET Building will play a key role in future students' academic success.

The celebration was well-attended by more than 150 Edmonds CC employees, students, community members, local leaders in education, elected officials, and industry and community partners.

Lynnwood Mayor Nicola Smith said the city has had a long and successful partnership with the college. Smith also has strong ties to Edmonds CC, where she worked for more than 30 years before becoming mayor.

"It's been a great collaboration so far to get this building to where it is today," Smith said. "We've been working side by side for years and included the funding for the building in our legislative agenda for many years."

The Washington State Legislature approved $47.1 million for construction of the SET building, which was one of 25 projects included in the Washington State Board for Community and Technical College's $338 million budget request for the 2017-19 capital budget.

Project architect Walter Schacht said the building will be along the campus "spine" of original buildings and will create connectivity through the campus.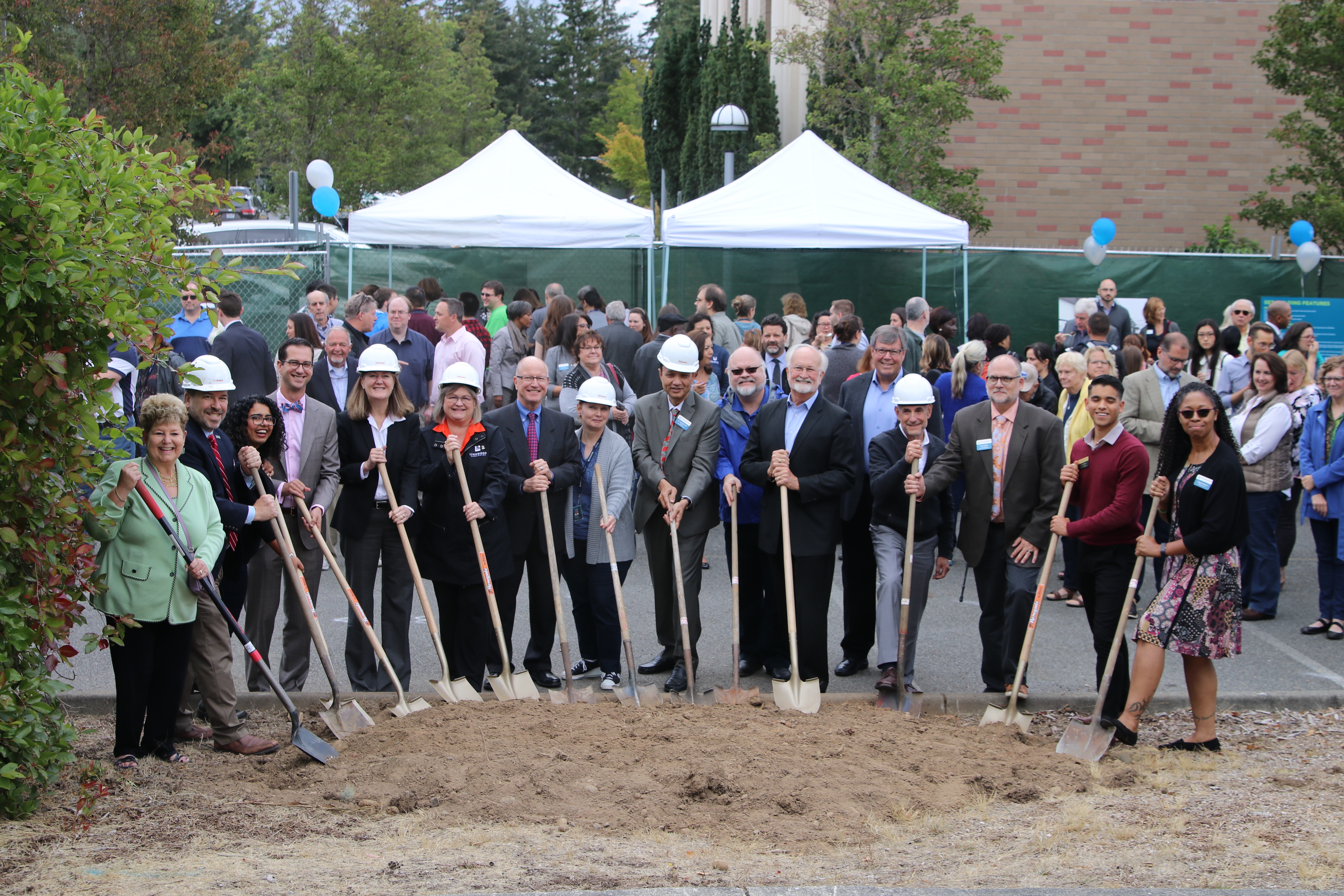 (from right to left) Trustee Diana Clay, Dr. Charlie Crawford, Tina Rajabi, Foundation Board Chair Nick Echelbarger, Trustee Dr. Tia Benson Tolle, Lynnwood Mayor Nicola Smith, Trustee Carl Zapora, Kay Latimer, Edmonds CC President Dr. Amit Singh, Frederick Pieters, Edmonds Mayor Dave Earling, Trustee Quentin Powers, Walter Schacht, Kevin McKay, Loren Everhart, and Student Trustee Angela Durham.

"There are critical STEM programs that will be located in this building, but I think the college showed a huge amount of foresight and innovation by also putting two floors of multipurpose classrooms to be used by dedicated programs but also by any program on campus," Schacht said.
According to Schacht, this flexibility will allow the building to be resilient in terms of programming for decades to come.

The new building will house allied health, physics, chemistry, engineering, and math classrooms, as well as labs and offices. It will also be LEED Gold certified.

"As the director of Advanced Materials at Boeing, I'm looking forward to seeing Edmonds CC students and alumni start and advance their careers in STEM here," said Edmonds CC Board of Trustees Chair Dr. Tia Benson Tolle. "Edmonds CC will play a critical role in training our regional workforce in the coming years."

Edmonds CC trustees Diana Clay, Quentin Powers, and Carl Zapora and student trustee Angela Durham were in attendance.

Elected officials in attendance included: Sen. Maralyn Chase, Rep. Shelley Kloba, Rep. Strom Peterson, Snohomish County Executive Dave Somers, Edmonds Mayor Dave Earling, Lynnwood City Council members Shannon Sessions and Shirley Sutton, and former Rep. Phyllis Gutierrez Kenney.

Dr. David Beyer, president of Everett Community College; Dr. Tonya Drake, chancellor of Western Governors University – Washington; Dr. Kristine McDuffy, Edmonds School District superintendent; and Dr. Paul Pitre, Washington State University chancellor attended the event to show their support and celebrate Edmonds CC's achievement.

For more information, go to edcc.edu/STEMBuilding.
Media Contact Info
Laura Daniali
425.640.1513
laura.daniali@edcc.edu