News Archive
Get moving for student success at Edmonds CC's 5K Walk and Run Oct. 13
09/27/18
Edmonds Community College will hold its third annual 5K Walk and Run on Saturday, Oct. 13, to promote healthy living within our community while raising funds for student success.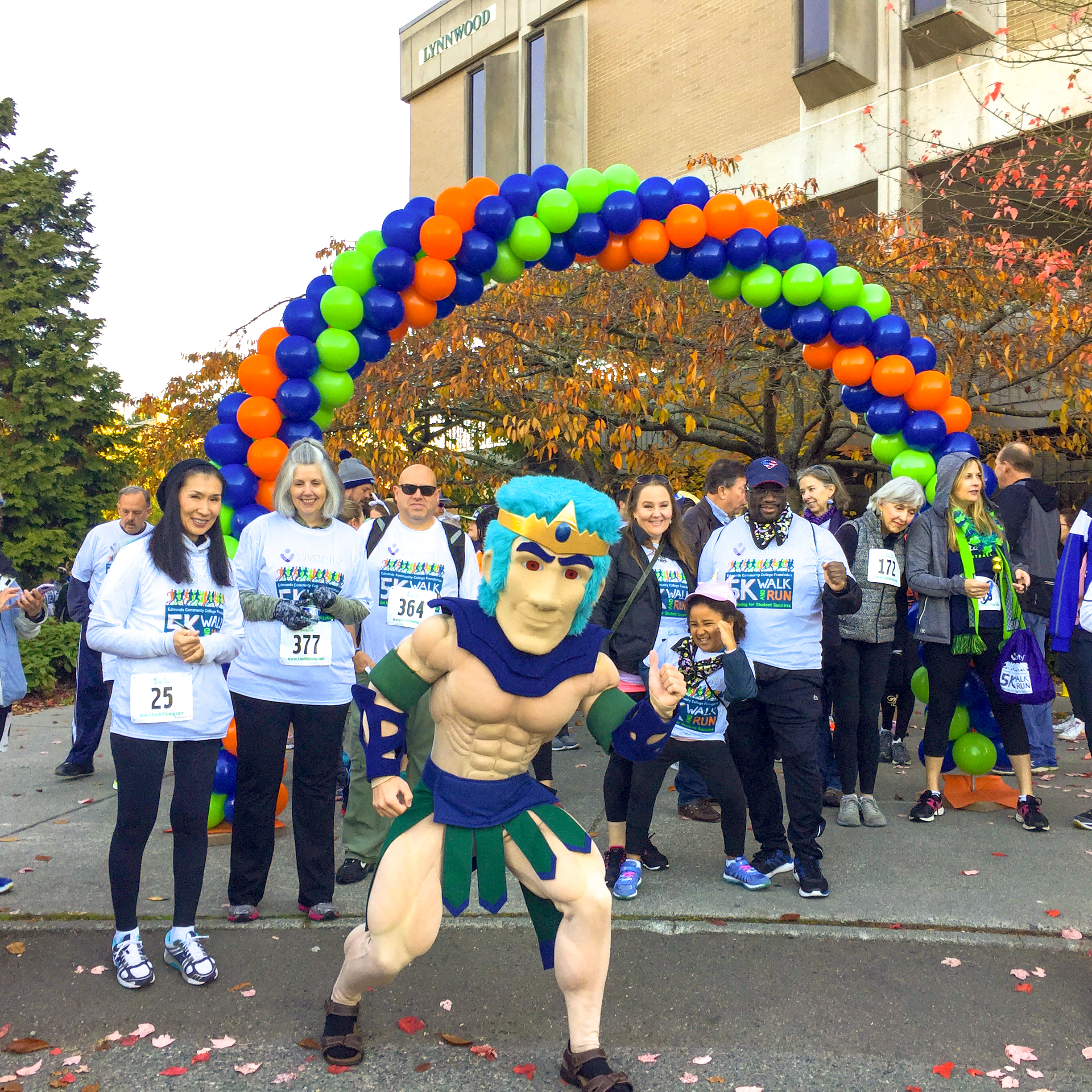 Edmonds CC will host its third annual 5K Walk and Run on Saturday, Oct. 13.
"Whether you run, jog, or stroll, please join us for this fun event to raise funds for student scholarships and emergency funding," said Jorge de la Torre, dean of Student Success/Student Life and 5K chair. "Many college students face tremendous financial barriers which can impact their potential to do well in school.

"Your participation will keep Edmonds CC students in class and on track with their higher education goals."

Walkers and runners of every level are encouraged to participate. Individual and team rates are available.

Online event registration is now open and will close at 5 p.m. Thursday, Oct. 11. Individuals can register for $35. Day-of onsite registration is $45 and begins at 8 a.m.

Teams are encouraged, and can register for $500 by Oct. 8. Team registrations include up to 10 walkers and/or runners, a team photo, prizes, and more. Participants are guaranteed to receive a free T-shirt if registered by Oct. 8.

The race, featuring chip timing and live results, will begin in the Edmonds CC campus courtyard, wrap around the Lynnwood Municipal Golf Course trail, and back through campus. Runners will start at 9 a.m. followed by walkers at 9:05 a.m.
Participants will be treated to live music, tasty treats, special student vignettes in the courtyard, a costume contest, and an after party beginning at 9:30 a.m. Edmonds CC's Dean of Student Success Steve Woodard will be the emcee.

Event sponsors include: Carter Subaru, Community Transit, The Daily Herald, Edmonds CC Associated Students, Edmonds CC Foundation, The Everett Clinic, Harbor Square Athletic Club, Lynnwood Honda, and Team Jean Sittauer.

For more information, go to edcc.edu/foundation5K. For more information about sponsorships, vendor booths, and team registrations, contact Elaine Hall at elaine.hall@edcc.edu.
Media Contact Info
Laura Daniali
425.640.1513
laura.daniali@gmail.com