News Archive
Edmonds CC Foundation celebrates scholarship recipients, community partners
11/16/18
The Edmonds Community College Foundation celebrated its scholarship recipients and community partners on Wednesday at a well-attended reception that created connections between donors and students and honored community partners with annual awards.

Recognition of Student Scholars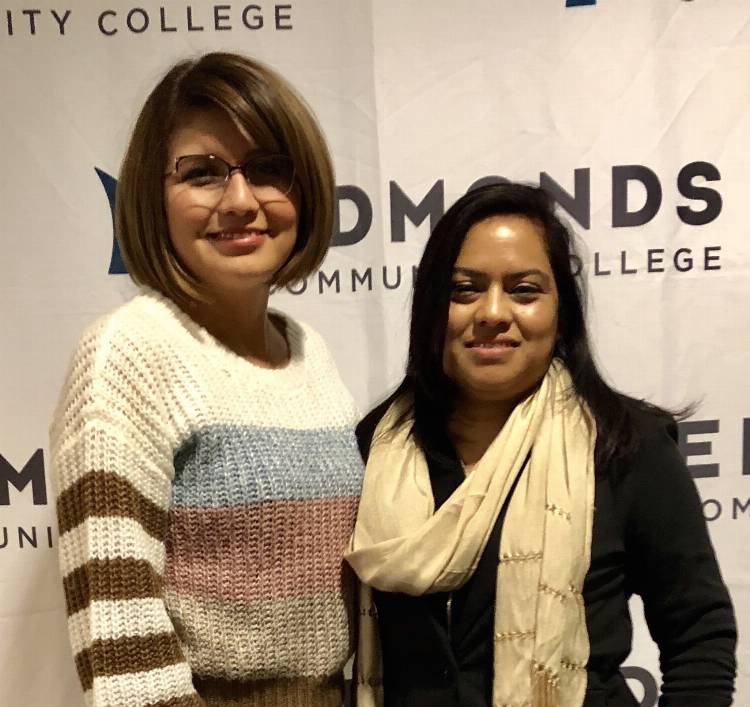 (from left to right) Edmonds CC Foundation scholarship recipients Angela Ferro-Capera and Veronica Salas
Edmonds CC Foundation scholarship recipients were collectively honored for their dedication and hard work. Their pursuit of excellence earned them the title of Edmonds CC Foundation Student Scholars.

Two Student Scholars were the featured speakers. They each shared their stories about the impact a Foundation scholarship had on their lives.

Veronica Salas spoke about her journey to Edmonds CC as a single mother, first-generation college student, and survivor of domestic abuse.

"Your support has also helped me set an example for my children to keep going, to keep moving forward," Salas said. Two of Salas' children, José and Paola, are also currently enrolled as students at Edmonds CC.

Salas' son, José, wrote a letter to his mother: "Dear Mom, thank you for all you have done for me. You keep pushing me to do my best and to not give up. You are setting an example by going to school and working. You tell us to do our work so that we can do what we want to. You give me advice because you know what's best for me. You work and get money so that we don't have to and we can focus on our school work. I know that you have plans for us and I know they will be very good. I hope that you will stay in school and become what you want to become. I love you much, your son"

Salas received a Foundation scholarship and emergency funding, which allowed her to continue her education even during a financial crisis. She is currently enrolled in Edmonds CC's paralegal program.

Angela Ferro-Capera grew up in Colombia and moved to the U.S. to pursue a career in STEM, or Science, Technology, Engineering, and Math. The year before Ferro-Capera began taking classes at Edmonds CC her mother passed away, and she was involved in a terrible car accident. She applied for a scholarship, unsure if she would be awarded.

"I received an email saying, 'Congratulations, you have been awarded a Foundation Scholarship.' I thought the email was a mistake, I thought that it was meant to be sent to somebody else, but it wasn't. The email was right. I was awarded the Foundation Scholarship," Ferro-Capera said.

Receiving the scholarship allowed for Ferro-Capera to quit her part-time job and focus on her studies. She hopes to one day work on creating a program that would help people with learning challenges continue their education.

Community Partner awards
(from left to right) Edmonds CC President Dr. Amit Singh, Heritage Bank Branch Manager Mikala Gammell, Carter Subaru of Lynnwood General Manager Jennifer Moran, and Edmonds CC Foundation Executive Director Brad Thomas
The Foundation also presented two community awards. The Foundation's Mission Award is given to a small business that has dedicated financial, volunteer, and moral support to Edmonds CC and the Foundation over a considerable period of time.

The Foundation's Mission Award went to Carter Subaru for eight years of support of the Foundation and community investment. General Manager Jennifer Moran accepted the award.

The Vision Award was presented to Heritage Bank as a large business that has extended its resources in significant ways over a considerable period, strengthening the institution's ability to provide access and excellence in education. Branch Manager Mikala Gammell accepted the award.

"The Foundation and its supporters believe there is no better investment than scholarships and emergency funds for students," said Foundation Executive Director Brad Thomas. "Student Scholars go on to get living-wage jobs and college degrees, and become transformative business and civic leaders for our community.

"For many, the financial support provided by a scholarship or emergency fund is the catalyst that starts their journey to a brighter future."

This year, the Edmonds CC Foundation anticipates an increase in basic needs for students and has allocated nearly $40,000 in emergency funding to ensure students won't have to make the difficult decision between their education and buying food, transportation, or housing.

"To our students, donors, and community members, it is truly an honor to be a part of this important partnership with a common goal: transforming lives and our future, and we thank you, Thomas said.

To make a year-end gift to the Edmonds CC Foundation for scholarships, emergency funding, or the investment in impactful programs, visit edcc.edu/give.
Media Contact Info
Marisa Pierce
425.640.1697
marisa.pierce@edcc.edu