News Archive
Edmonds CC art gallery to feature mixed media artist Naoko Morisawa
12/03/18
Edmonds Community College's art gallery this winter features "Play with Material: Laboratory" by Naoko Morisawa.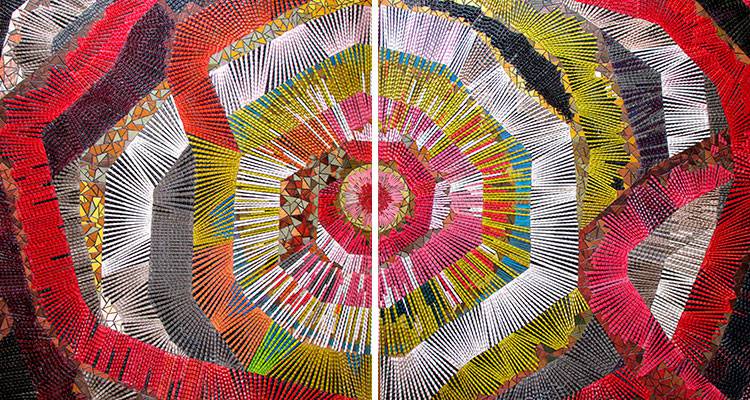 Energy XII- Target Forever Pi (3.14......) by Naoko Morisawa

"Wood is an important component in my art," Morisawa said. "The life of a tree and the energy in each grain of wood are why I use wood." The exhibit runs from Jan. 7 through March 15.

Morisawa's artwork is hand-made of thousands of very small slices of natural and oil-dyed wood chips on board. She incorporates the patterns in the wood and enhances them with oil-stain.

"The variety of wood grain is very beautiful, and the pattern is never the same," she said. "The combinations of natural and oil-stained grains create interesting shadows and impressions."

Meet Morisawa at an artist reception from 3-5 p.m. Friday, Feb. 22, in the gallery.

About the artist:
Morisawa was born in Tokyo, Japan, and studied art at Tama Art University, one of the top art schools in Japan. She's worked as a commercial designer for Godiva Chocolate and Twining Tea, and taught art classes in Tokyo, Yokohama, and the Canadian Embassy for more than 10 years.

Morisawa currently works in Seattle and has exhibited her work across the U.S. in more than 35 states, in Japanese museums, and the Dublin Biennale 2014. Corporate window presentations include Amazon, GE, and Nordstrom. She's also been commissioned for public art projects for the cities of Seattle, Lynnwood, Shoreline, Edmonds, and Kent.

Her current focus includes mosaic collage painting.

The exhibit is sponsored by the Edmonds Arts Festival Board, and the Edmonds CC Library, Visual Arts department, and Center for Student Engagement and Leadership.

The gallery is open 7:30 a.m.-9 p.m. Mondays through Thursdays, 7:30 a.m.-2 p.m. Fridays, and 1-5 p.m. on weekends. For more information, go to edcc.edu/gallery.

The Edmonds Community College Art Gallery is on the third floor of Lynnwood Hall at 20000 68th Ave. W, Lynnwood, WA. For directions and a campus map, go to edcc.edu/campus.
Media Contact Info
Laura Daniali
425.640.1513
laura.daniali@edcc.edu