News Archive
Baking students make 480 cookies for nonprofit, pop-up CookieFest Dec. 8
12/07/18
Nothing says "Happy Holidays" more than a bustling kitchen filled with baking students busy making cookies for a good cause.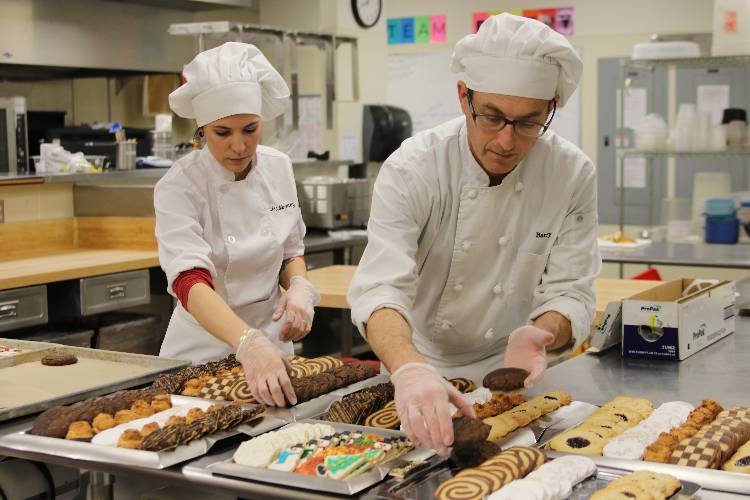 (from left to right) Edmonds CC Baking and Pastry Arts students Carolina Mooney and Barry Rickman prepare cookies for donation to the Seattle Milk Fund's annual CookieFest.

This week Edmonds College Baking and Pastry Arts students made 480 cookies, or 40 dozen, to donate to CookieFest 2018, a festive pop-up cookie sale to benefit the nonprofit Seattle Milk Fund.

"This is our first year to participate, and we're so excited to contribute to an organization that provides financial help to make child care more affordable for low-income student parents," said Karen Jenkins, Edmonds CC chef instructor.

CookieFest 2018 will be held from 11 a.m. until the last cookie is sold, Saturday, Dec. 8, during Winterfest at Seattle Center Armory. Cookies are $20 per dozen or $2 per cookie. All proceeds directly benefit Seattle Milk Fund families.

"We've made so many varieties," said student baker Barry Rickman. The students used nearly 11 pounds of butter, more than 5 pounds of sugar, and 35 eggs to make pecan bars, lime butter cookies dusted with powdered sugar, traditional German spritz and checkerboard cookies, chocolate-dipped macaroons, and winter holiday themed snowmen, Christmas trees, snowflakes, and leaves.

Student baker and single mom Carolina Mooney is working toward an associate's degree in baking and said she's proud to be part of efforts that will benefit and help keep student parents, like herself, in school. Mooney designed all of the holiday themed cookies.

Rickman and Mooney also shared a trade secret: Edmonds CC's cookie recipes are tried and true. When a cookie breaks, comes out of the oven a little over done, or if the scarf isn't just perfect, well … someone has to eat it.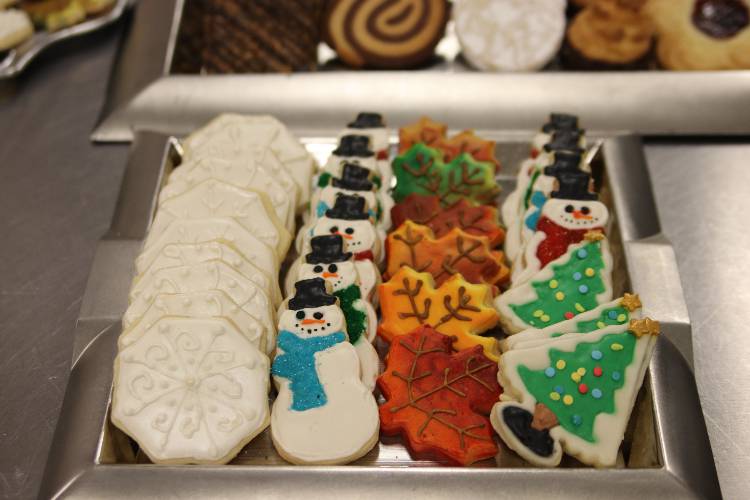 Mooney designed the winter holiday themed snowmen, Christmas trees, snowflakes, and leaves.
Interested in baking and pastry arts? Edmonds CC offers a one-year baking certificate and a two-year associate's degree in baking with an emphasis on specialty baking.

Winter quarter classes include:
• Beginning Baking Theory, CLART 102, 5 credits, online. This class provides an introduction to ingredients, mixing methods, terminology, bakery equipment, procedures, and the use of hand tools.

• Beginning Baking, CLART 110, 7 credits, 8:30 a.m.-12:30 p.m. Mondays through Thursdays. This class offers an introduction to batters and doughs and is the lab accompaniment to CLART 102.

Go to go to edmonds.edu/baking for more information. Winter quarter registration is open. Classes start Jan. 2.

CookieFest 2018 participating bakeries include: Arctic Club Seattle – A Doubletree by Hilton, Bothell High School Culinary Arts, Byen Bakeri, Crum Cakes and Cookies, Dahlia Bakery, Edmonds CC Baking and Pastry Arts program, Hello Robin, Hillcrest Bakery, Little Rae's Bakery, Newport High School, Nielsen's Pastries, Midnight Cookie Co., PCC Community Markets, Renton Technical College's Professional Baking program, Standard Bakery, Tasty Doux, The Cookie Counter, West Seattle High School ProStart, and WOW Baking Company.
Media Contact Info
Laura Daniali
425.640.1513
laura.daniali@edcc.edu