News Archive
Construction management degree leads to high-wage jobs in growing industry
03/21/19
Last year, Seattle earned the title of crane capital of the U.S. for the third year in a row with 65 cranes dotting the skyline. Construction is booming throughout the Puget Sound region, creating a demand for skilled workers and construction managers.

As the only accredited two-year construction management program in Washington state, Edmonds Community College is uniquely positioned to train students for high-demand, high-wage jobs in this growing industry.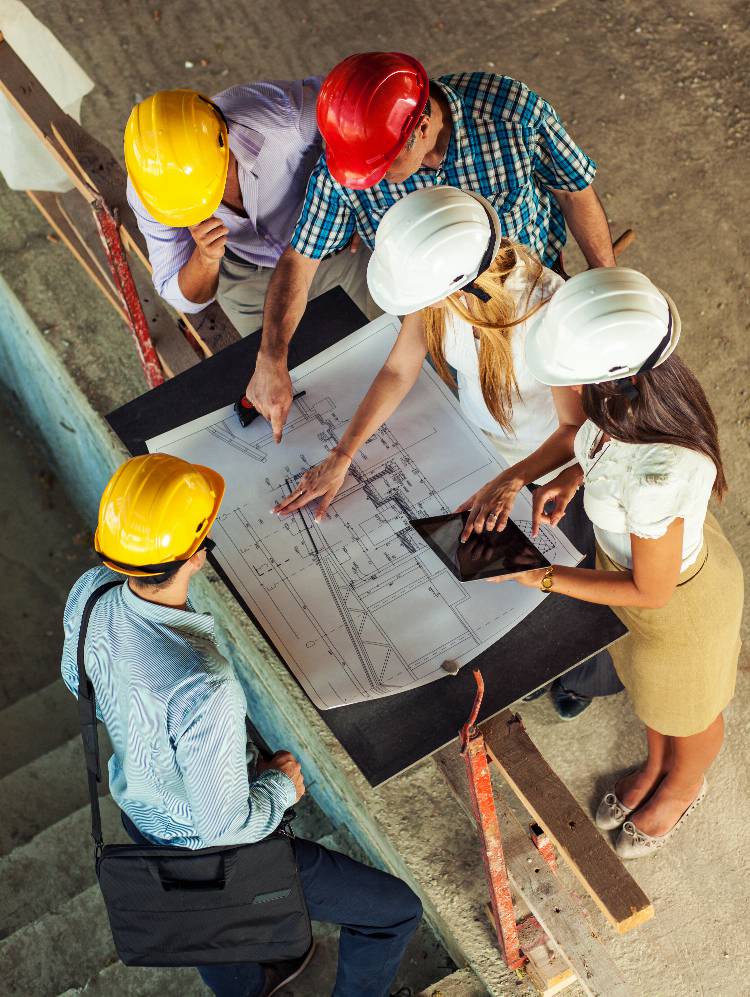 An associate's degree in construction management from Edmonds CC prepares graduates for high-wage, in-demand jobs in the industry.

"Our Construction Management (CM) program can open many doors for both those who have no construction experience and to folks with either construction experience or CM experience," said Dave Jacobson, Construction Management Department Head. "We help people learn how to be construction professionals who can work across the industry in various positions from superintendent to project manager to building inspector and many others."

Edmonds CC's Associate of Technical Arts degree in Construction Management is accredited by the American Council for Construction Education. It is one of only 13 accredited, two-year programs in the U.S.

For those who want to go on to earn a four-year degree, Edmonds CC's Associate in Applied Science in Construction Management – Transfer degree allows graduates to transfer directly into the University of Washington's bachelor's degree in construction management program.

"Students wanting to attend the prestigious UW construction management program now have a better way to get there," Jacobson said. "Our direct transfer agreement offers a path that is both unique and very beneficial. This pathway into the UW CM program has been made possible by UW's recognition of the value in recruiting students with CM training and skills prior to transferring."

According to Jacobson, students are able to get ahead by taking construction management courses toward their major in their first two years of college. Students are able to take industry-specific courses – such as estimating and construction management software – sooner, thus they are better prepared when beginning their careers as construction professionals or as transfer students.

Graduates who choose to go right to work after earning the construction management degree could earn upwards of $70,000 per year. According to Payscale.com, an entry-level construction manager with less than five years of experience can expect to earn an average total compensation of $74,000.

Edmonds CC's program is designed primarily for those who are currently employed. Previous construction experience is not required. Most classes are offered in the evening to meet the needs of working professionals, and students can attend part-time or full-time.

Spring quarter starts April 1, and enrollment is open for the following Construction Management programs:
• Construction Project Management Certificate
• Building Inspection Certificate
• Civil Construction Management and Inspection Certificate
• Associate of Technical Arts degree in Construction Management
• Associate in Applied Science in Construction Management – Transfer (Direct transfer to the Bachelor of Applied Science in Construction Management at UW)
Spring quarter classes include:
Computers in Construction (CONST 100) | 5:45-9:55 p.m. Wednesdays
Introduction to business computing with emphasis on construction management using Windows and MS Office. Use of spreadsheets, word processing, information management and presentation software in construction specific exercises. Management resources including online plan room and online databases are introduced.
Architectural Blueprint Reading I (CONST 141) | 6-9:20 p.m. Mondays
An introduction to reading and interpreting architectural drawings. Layout, terminology, graphic standards and drafting fundamentals. Emphasis on how to locate information and cross reference with details, schedules, and specifications for clarification.
Erosion Control (CONST 165) | 9:30 a.m.-3:30 p.m. Friday, May 3 and Friday, May 31
Overview of drainage codes and regulations governing construction job sites intended for builders and inspectors. Impacts of new codes and new technologies. Focus is on acceptable methods for controlling construction site erosion.
LEED/Green Building (CONST 170) | 8:30 a.m.-3:30 p.m. Friday, April 19 and Friday, May 17
Introduction to sustainability concepts in construction. Overview of green building programs and certifications. Focus on managing LEED implementation on construction job sites. Covers preconstruction planning, LEED documentation, and submittal requirements.
Structural Concrete (CONST 177) | 6-9:20 p.m. Wednesdays
Introduction to concrete technology. How concrete is manufactured, delivered, and handled at the construction site; inspection and testing methods. Benefits anyone responsible for the design, preparation, placement, and inspection of structural concrete.
Basic Estimating (CONST 200)* | 6-7:30 p.m. Thursdays
A detailed introduction to the world of construction estimating and bidding. Basic concepts, procedures, and terminology. Quantity take-off and pricing techniques. Scope of work issues and costs associated with the major components of a construction project. *Requires prerequisites or instructor permission.
Online Plan Center (CONST 202)* | 9:30 a.m.-3:30 p.m. Fridays
Detailed overview of the Builder's Exchange Online Plan Center. Access drawings, specifications, and other bid documents. Find unit costs in databases, perform quality take offs using the online digitizer, copy to estimating spreadsheet. Introduction to QuickEye software. *Requires prerequisites or instructor permission.
AutoCAD for Construction (CONST 241)* | 6-9:20 p.m. Tuesdays
Introduction to the fundamentals of architectural graphics and geometric construction in multiple views using computer aided drafting software. Prepares students for creating, reading, and communicating graphic images in electronic formats. *Requires prerequisites or instructor permission.
Safety Plan Administration (CONST 251)* | 6-7:30 p.m. Tuesdays
Emphasis on job site safety and potential liability for general contractors. Management systems, procedures, and documentation that address WISHA requirements and provide a safe working environment. Effective integration of safety into management systems is stressed. *Requires prerequisites or instructor permission.

For more program information, go to edcc.edu/const. For a complete list of spring quarter classes, go to edcc.edu/schedule.
Media Contact Info
Laura Daniali
425.640.1513
laura.daniali@edcc.edu