News Archive
Edmonds CC to recognize immigrant veterans, celebrate 10th anniversary of Boots to Books and Beyond memorial
11/01/19
Edmonds Community College will host its seventh annual Veterans Day Celebration from 10:30 a.m. to noon Wednesday, Nov. 6, on campus in the Black Box Theatre.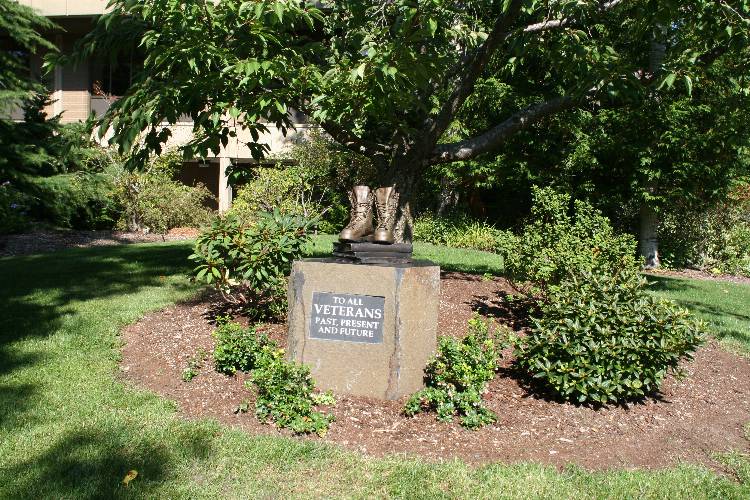 Edmonds Community College will celebrate Veterans Day and the tenth anniversary of its Boots to Books and Beyond monument on Wednesday, Nov. 6.

Edmonds CC welcomes students and employees, as well as veterans from our surrounding communities who served during times of war and peace, to the celebration. The public is also invited to attend this free celebration.
"Veterans Day is a time to celebrate the service and sacrifice of the men and women who have worn the uniform of our armed services and put themselves in harm's way on our behalf," said Chris Szarek, director of the Edmonds CC Veterans Resource Center (VRC) and retired U.S. Navy Seabee.
This year's event will honor all U.S. military veterans and pay special tribute to immigrant veterans as well as celebrate the tenth anniversary of the campus Boots to Books and Beyond monument.
Dr. Peter Schmidt will be speaking at the ceremony . He is a former Edmonds CC employee who served as the Dean for Student Success and Retention, project director for the Veterans Training Support Center and as dean for Student Success and Retention. He was instrumental in the creation of the Boots to Books and Beyond monument. Schmidt now serves as director of Counseling and Wellness at the Washington Department of Veterans Affairs.
Edmonds CC alumni Timm Lovitt and Troy Montgomery who were members of the Student Veterans Association in 2009 will also provide remarks. They helped develop the plan and design for the Boots to Books and Beyond monument, as well as helping to raise the money needed to build it. Lovitt and Montgomery have gone on to successful careers in higher education and aerospace, respectively, since graduating from Edmonds CC.
Other speakers include: Edmonds CC security officer and U.S. Marine veteran Fernando Moratalla and Staff Sergeant Ahmad F. Al Rawi, Lynnwood Army Recruiting Office career counselor. Al Rawi was born and raised in Baghdad, Iraq, where he worked as a translator with the U.S. military. He immigrated to the U.S. in 2010 and joined the Army in 2012.
Moratalla will speak about his experience as an immigrant from Venezuela who joined the Marines and became a U.S. citizen within days of his deployment to Iraq in 2003.
"There were a lot of feelings and excitement," Moratalla said. "I had always wanted to be an American citizen. I believe in what we stand for. There's opportunity here in the U.S. You have the opportunity to become whatever you want to become. You can go as far as you want to accomplish what you want."
The ceremony will feature musical performances by Edmonds CC voice students led by instructor Linda Kappus, Edmonds CC employees who have served in the U.S. military will be recognized, and light refreshments will be provided by Baker's Angels.
The Black Box Theatre is in Mukilteo Hall on the Edmonds Community College campus at 20000 68th Ave. W, Lynnwood, WA. For directions and a campus map, go to edcc.edu/campus.
Edmonds CC has been designated as a military friendly school. The college is also home to the Veterans Resource Center that serves the needs of over 200 veterans and their family members attending Edmonds CC by providing Veterans Affairs counseling and certification, resource referrals, career counseling, and an inviting place to meet other veterans.
The center is funded by the Edmonds CC Foundation's Boots to Books and Beyond Campaign.
Media Contact Info
Laura Daniali
laura.daniali@edcc.edu