News Archive
Meet the Artist: Photographer Michael J. Wewer at Edmonds CC art gallery
11/06/19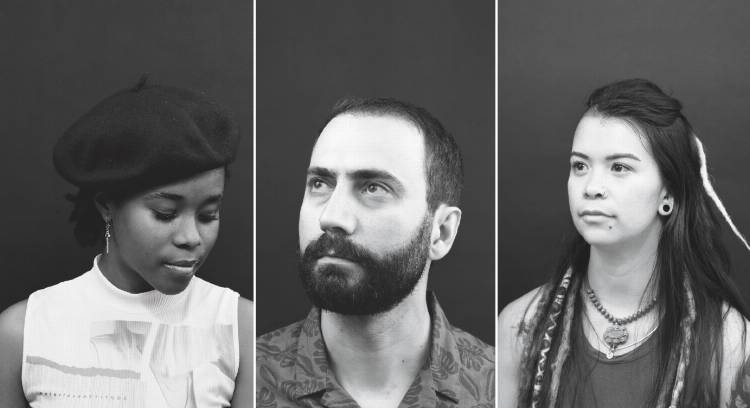 Maimouna/Guinea, Basel/Syria, Jessica/Native American
Edmonds Community College's art gallery this fall features "Origin / Identity / Belonging" by photographer Michael J. Wewer and photographic assistant Kevin Ng.

Wewer is an Edmonds CC alumnus and has taught photography at the college since 2001. His exhibit showcases large scale black and white portraits featuring Edmonds CC students who have come to the college from countries around the world in pursuit of education and career goals.

"In capturing portraits of these students, I am exemplifying one of the many great aspects of Edmonds CC –– the diversity of the student body and the strength of our multicultural community," Wewer said. "Through the photos, I am able to help students to be seen and to make their stories heard."

Meet Wewer at an artist reception from 3-5 p.m. Friday, Nov. 15, in the gallery.

About the artist:
Wewer's body of work has stemmed from 18 years of teaching photography at the college. His educational pursuits included Near East studies, and his exposure to diverse people and cultures as an Edmonds CC student and faculty member opened his mind to different cultures, religions, and people.

"This has inspired the direction of my photographic work, resulting in this project," Wewer said.

He has also been inspired by many artists and photographers, one of whom is Martin Lim, a former Edmonds CC art and photography instructor. Wewer said Lim is a mentor to him and inspired him to teach photography and become a mentor to others.

"He has influenced me greatly and the impression he made on me is something that is carried through in the way I teach and mentor," Wewer said. "The students in these photographs who have passed through my life have played a major role in sculpting my abilities to work as a photographer and mentor. They represent my skill as a mentor through their success."

The exhibit is sponsored by the Associated Students of Edmonds CC, Center for Student Engagement and Leadership, Library, Triton Catering, and the Visual Arts Department. Special thanks to the Edmonds CC Foundation for its generous support.

The gallery is open 7:30 a.m.-9 p.m. Mondays through Thursdays, 7:30 a.m.-2 p.m. Fridays, and 1-5 p.m. on weekends. For more information, go to edcc.edu/gallery.

The Edmonds Community College Art Gallery is on the third floor of Lynnwood Hall at 20000 68th Ave. W, Lynnwood, WA. For directions and a campus map, go to edcc.edu/campus.
Media Contact Info
Laura Daniali
425.640.1513
laura.daniali@edcc.edu