News Archive
Edmonds College to host 7th annual Memorial Day Ceremony virtually, May 22
05/20/20
Edmonds College will host its seventh annual Memorial Day Ceremony virtually with a live premiere of "A Time to Remember" at 10 a.m. Friday, May 22, on YouTube.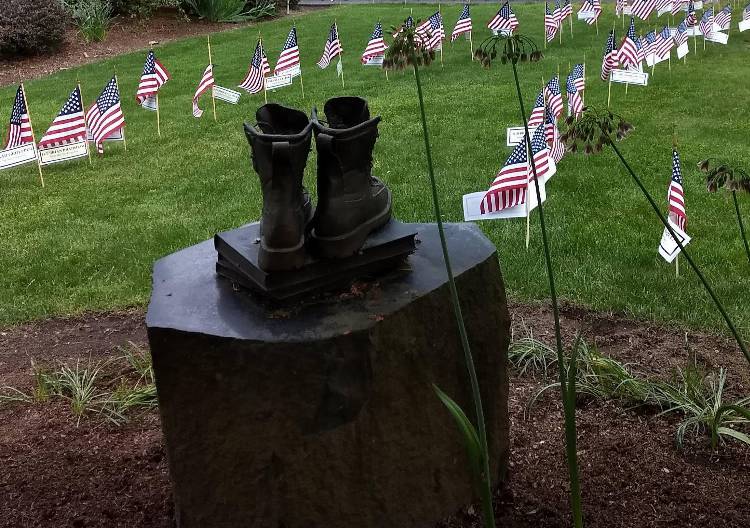 Boots to Books and Beyond memorial, Edmonds College Memorial Day Ceremony 2019

"Each year, we come together as a campus and community to reflect on the price paid for our freedom, and to show our gratitude to the families of the fallen as well as those still living who are connected to our Armed Forces in some way," said EC Veterans Resource Center Director Chris Szarek. "At a time when most events have been postponed or cancelled for this year, a group of talented and dedicated individuals have worked tirelessly to keep this proud tradition alive."

"This tradition will continue online so that we can honor the fallen, comfort people who are grieving, and reflect on the sacrifices many have made to ensure our freedom."

Features of the ceremony include: Dr. Steve Woodard, EC dean of Student Success and Retention, serving as master of ceremonies; messages from EC President Dr. Amit B. Singh, Sen. Patty Murray, and Edmonds City Councilmember Vivian Olson; a special presentation from Gold Star Mothers; a tribute to the recently departed Robert "Buck" Weaver, who for many years proudly led attendees in song at EC ceremonies and was a treasured part of our community; music, photos, video, and more.

Please note: A live chat with members of the ceremony's planning committee will be held from 10-10:45 a.m. on YouTube. The video will be available to watch at your convenience after the premiere.

Edmonds College is home to the Veterans Resource Center (VRC), which serves the needs of over 225 veterans and their family members attending EC. The center provides Veterans Affairs counseling and certification, an on-site academic advisor, career counseling, and an inviting place to meet other veterans. The center is funded by the Edmonds College Foundation's Boots to Books and Beyond Campaign.
Media Contact Info
Laura Daniali
laura.daniali@edcc.edu