News Archive
Edmonds College to hold drive-through commencement celebration, virtual ceremony June 18
06/10/21
Edmonds College will host an on-campus, drive-through commencement celebration 2-5 p.m. Friday, June 18. Faculty and staff will cheer on graduates as they drive or walk through the celebration route. Strict COVID-19 safety guidelines will be maintained and attendance will be limited.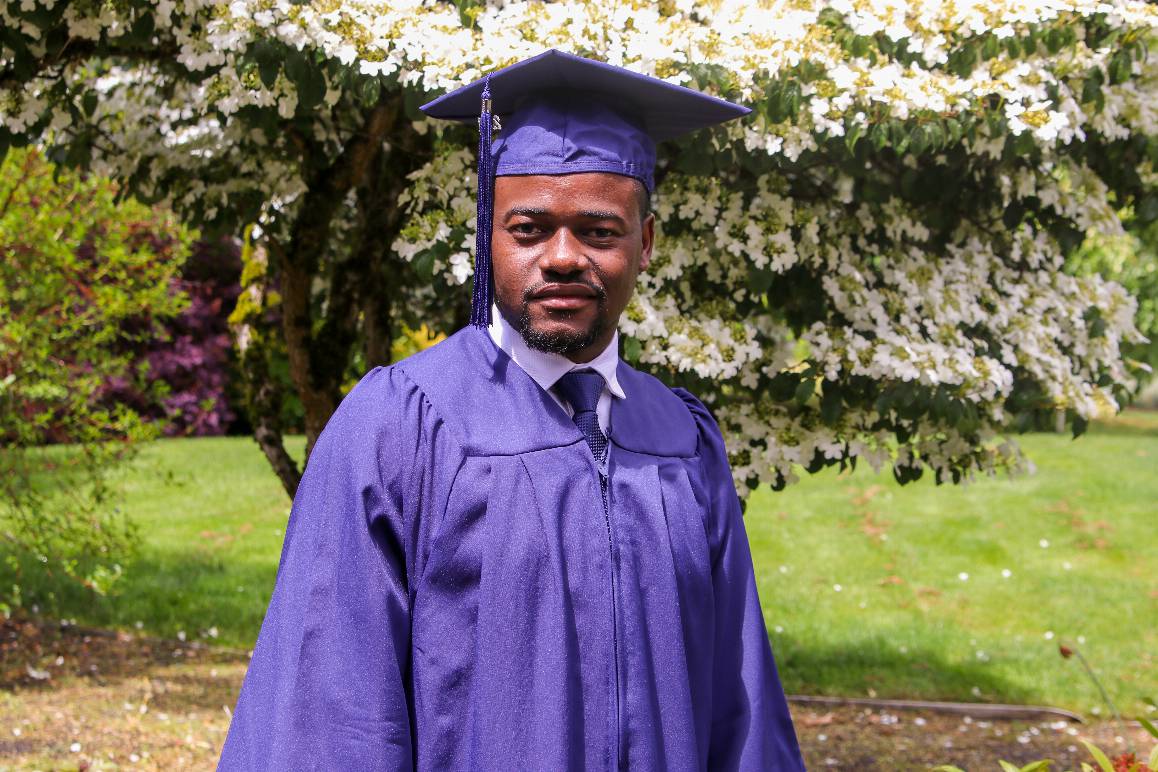 Steve Sebuka, EC 2021 Commencement Speaker
The college will also release a commencement ceremony video, which will be available for viewing at edmonds.edu/commencement at 12 p.m. June 18.
"I'm impressed by the tenacity each and every one of our graduates has shown," said Dr. Singh. "Through the most difficult times, they have not wavered from their goals. As they move ahead to pursue further education or enter the workforce, I am confident that they will be successful."
This year's student commencement speaker is Steve Sebuka. He was a physician in the Congo before coming to the U.S. in 2018, and he started at EC by taking English classes. He went on to earn five health care certificates, which allowed him to secure a position as a monitor technician at EvergreenHealth. Sebuka's ultimate goal is to become a public health doctor.
"Everything is possible in life; it is just a question of will," said Sebuka. "Yes, we are in the middle of a pandemic period, but let this challenge be a source of motivation rather than an excuse to give up."
2020-21 Highlights
We opened our second on-campus residence hall and a new $54 million building dedicated to science, technology, engineering, mathematics, and nursing.
We launched our second Bachelor of Applied Science (BAS) degree in Information Technology – Application Development. We are preparing to launch three additional BAS degrees in robotics and artificial intelligence, advanced manufacturing and materials engineering technology, and integrated health management.
We awarded more than $1.44 million in federal CARES Act funding to provide emergency assistance to students who are experiencing COVID-19 related financial hardships.
The EC Foundation awarded more than $277,000 in scholarships to 153 EC students.
The Center for First-generation Student Success selected us as a member of the 2021-22 First-gen Forward cohort, in recognition of the college's support of first-generation students.
The U.S. Department of Health and Human Services awarded us a $3 million grant for our health care training program for low-income students.
We were awarded a competitive federal Title III grant. We will receive more than $2.2 million over a five-year period, allowing us to increase the quality of online learning, provide more flexibility of program options for students, and enhance online student support services.
We were awarded three grants this year for materials science education, totaling over $1.1 million.
We partnered with Volunteers of America of Western Washington and Verdant Health Commission to place a 2-1-1 community resource advocate on campus.
Media Contact Info
Samuel Fox
samuel.fox@edmonds.edu