News Archive
EC Alum Reaching for the Stars – and a Ph. D. – in Taiwan
02/22/22
When Travis Thieme graduated from Everett's Cascade High School in 2012, he was unsure what to do next. He knew he wanted to attend college and considered pursuing a career in video production or teaching. Little did he know, but ten years later, he would be seeking his Ph. D. in astronomy a half a world away from the Pacific Northwest, thanks to a childhood passion he re-kindled and tapped into while attending Edmonds College.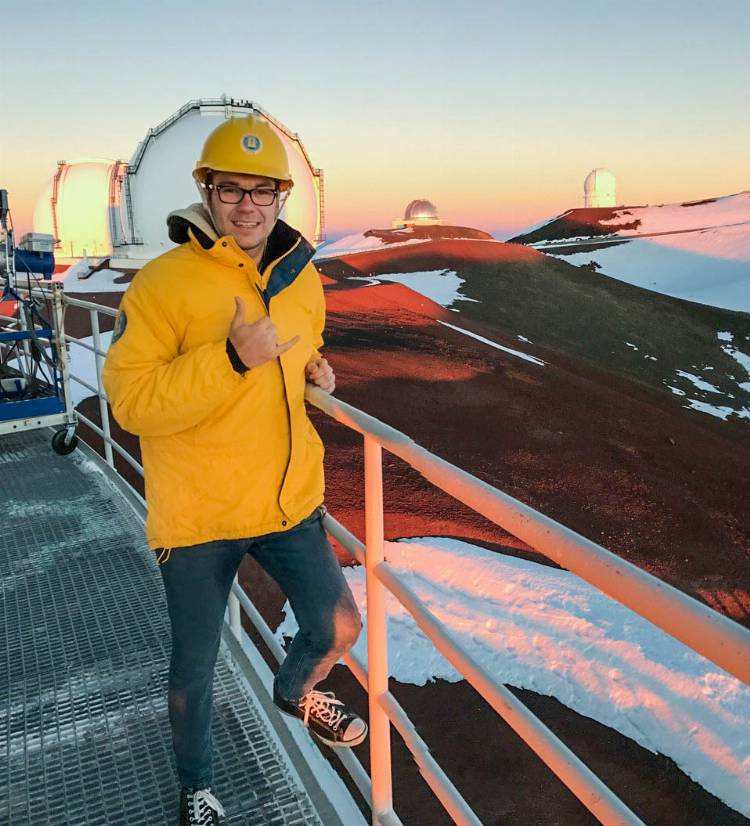 Travis Thieme at the Subaru Telescope on Mauna Kea for his Observational Astronomy course.

Getting to where he is now – National Tsing Hua University in Hsinchu, Taiwan – from where he was a decade ago was a long journey. It started when he first visited Edmonds College, where he felt an instant connection when he stepped foot on campus.

"I went on a tour of several community colleges, and I knew I wanted to go to Edmonds the moment I walked through the campus," Thieme said. "There are a lot of trees everywhere, and I just really liked the natural feel of the campus. It's a nice area."

Thieme's love of nature, mixed with his curiosity about science, would ultimately lead him on his current academic trajectory. Still, it would take him several quarters at Edmonds College before he would realize that passion was brewing inside himself. He took various classes once enrolled, ranging from business to music, before settling on a computer science path. Thieme was unsure if computer science was the right fit, but he decided to fulfill all the pre-requisite classes, including physics. He met instructor Rachel Wade in those physics classes, who helped Thieme realize his true calling.

"I took three quarters of physics with Professor Wade, and she ended up being the whole inspiration of this journey," Thieme said. "I would go to her office, and we would talk about what I wanted to do, what are my interests, that kind of thing. She asked me what I liked when I was growing up, and I think I off-handedly said, 'When I was a kid, my dad and I used to set up our telescope in the backyard, and we would look at planets and different stars.'"

That led to Wade suggesting Thieme should do his physics project on astronomy and that Edmonds College had a telescope that he could utilize. He went all-in on the idea.

"When the physics department started doing projects, we found our students started achieving things that exceeded our original expectations," Professor Wade said. "Travis is a really good example of a student who was both inspired and took advantage of the opportunities provided him."

He ended up borrowing that telescope and driving two hours east of Seattle to Ellensburg every weekend for several months. He would pack up on Friday and head into the mountains to escape the light pollution and achieve an optimal view of the sky. Those weekends in the fresh mountain air, staring into the sky for hours, foreshadowed what was to come in his future and cemented Thieme's academic path.

"I just loved it," Thieme recalled of his trips, which he did both solo and with members of the Seattle Astronomical Society. "I loved going out and looking through the telescope and learning about the stars and how the data processing works. From that, Professor Wade suggested that I major in astronomy, and I was like, 'Alright, where do I do that?'"

Professor Wade's brother happened to be an astronomy major that attended the University of Hawai'i-Hilo, so Thieme connected with him and quickly bought into the idea of attending school on the Big Island. Following graduation from Edmonds College, Thieme headed off to a tropical location, in a state he had never been, to pursue his bachelor's degrees in physics and astronomy.

"Let's go on an adventure," Thieme recalled about making his move from Washington to Hawai'i. "I decided to go to Hawai'i, and the rest is history.

"Once again, I have Professor Wade to thank for inspiring this adventure. I never thought in a million years that I would ever want to major in astronomy. It was kind of like the fate of the cards unfolded in front of me."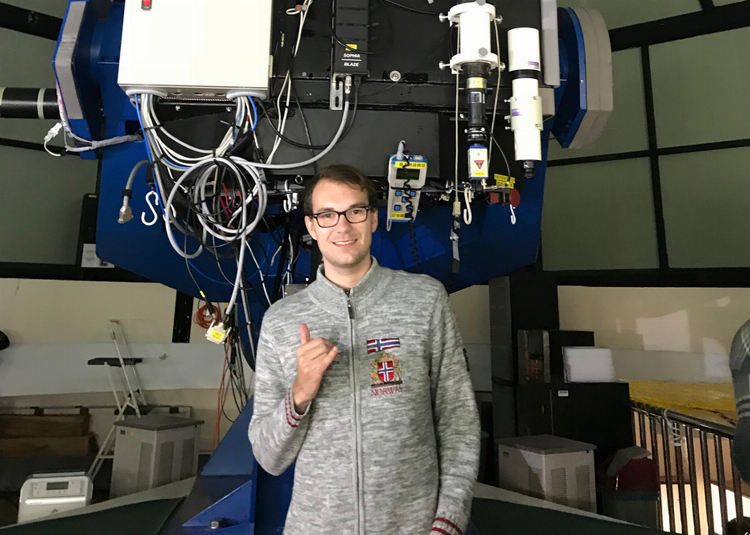 Thieme at Lulin Observatory in Central Taiwan for an Observational Astronomy course.
In Hilo, Thieme had easy access to Mauna Kea, a dormant volcano that reaches 13,796 feet into the sky. It is a haven for both recreational stargazers and research scientists. Thieme served as a stargazing volunteer at the Mauna Kea Visitor Information Station and interned with the Smithsonian Astrophysical Observatory Submillimeter Array (SMA), which consists of eight radio dishes working together as one telescope. He also was a night attendant at the NASA Infrared Telescope Facility on the volcano. Thieme was once again in the mountains, looking through telescopes (albeit on a grander scale than his days at Edmonds College), stoking his passion for astronomy.

During Thieme's internship with the Smithsonian Observatory, he got his first introduction to the idea of studying abroad in Taiwan. The observatory receives funds from both the Smithsonian and Academia Sinica in Taiwan. One of the astronomers he was doing his summer project with was an employee of Academia Sinica. He introduced Thieme to research opportunities in Taiwan.

"I wanted to study abroad when I was at UH, but it would have delayed graduation, which would have been financially unmanageable," Thieme said. "So I figured, 'Ok, maybe I can do my Ph. D. abroad.' I thought that could be something cool and unique."

Thieme took a year's worth of Chinese language classes at Hawai'i-Hilo before he even knew where his future would lead him, which helped ease his initial transition abroad. Upon graduation from UH-H in 2017, he headed to National Tsing Hua University in Taiwan, and he has never looked back. He is now in his fifth year in Taiwan and expects to finish his Ph. D. in 2023.

Despite setbacks from the COVID-19 pandemic that have affected many other Ph. D. candidates' timelines, Thieme was able to finish the first of three papers required to earn his doctorate. His first paper was on the accretion flows of materials and how they help form disks around young Class 0 protostar, Lupus 3-MMS. In simple terms: Thieme's paper discusses how a baby star is fed the ingredients it needs to form future planets.

Thieme has two more papers to complete over the next year before he obtains his doctorate. Once he has finished his Ph. D., he hopes to start a post-doctoral research position in astronomy and eventually return to the college environment and teach.

"I've had a lot of teachers that have inspired me, and I honestly just hope I can give that to somebody in the future," he said. "I want to pass on the great guidance and feelings I got from all the professors I had along the way."

Thieme's support and encouragement from instructors and faculty while at Edmonds College helped carve his career path. He feels Edmonds College can help students reach their full potential, whether they are undecided about their major or have aspirations to earn a doctorate.

"If you're graduating high school and you're not sure what you want to major in, community college is absolutely the way to go," he said. "I had such a great experience at Edmonds College, and I feel like it ultimately shaped the path of my life in a way that I never expected."
Media Contact Info
Brian Tom
425-478-0938
brian.tom@edmonds.edu