News Archive
Edmonds College students to resolve real-life ethical dilemmas in 5th Ethics Challenge
04/29/22
Sixteen students will compete in Edmonds College's fifth Ethics Challenge, held 1:30-3:30 p.m. Thursday, May 12, in the college's Black Box Theatre.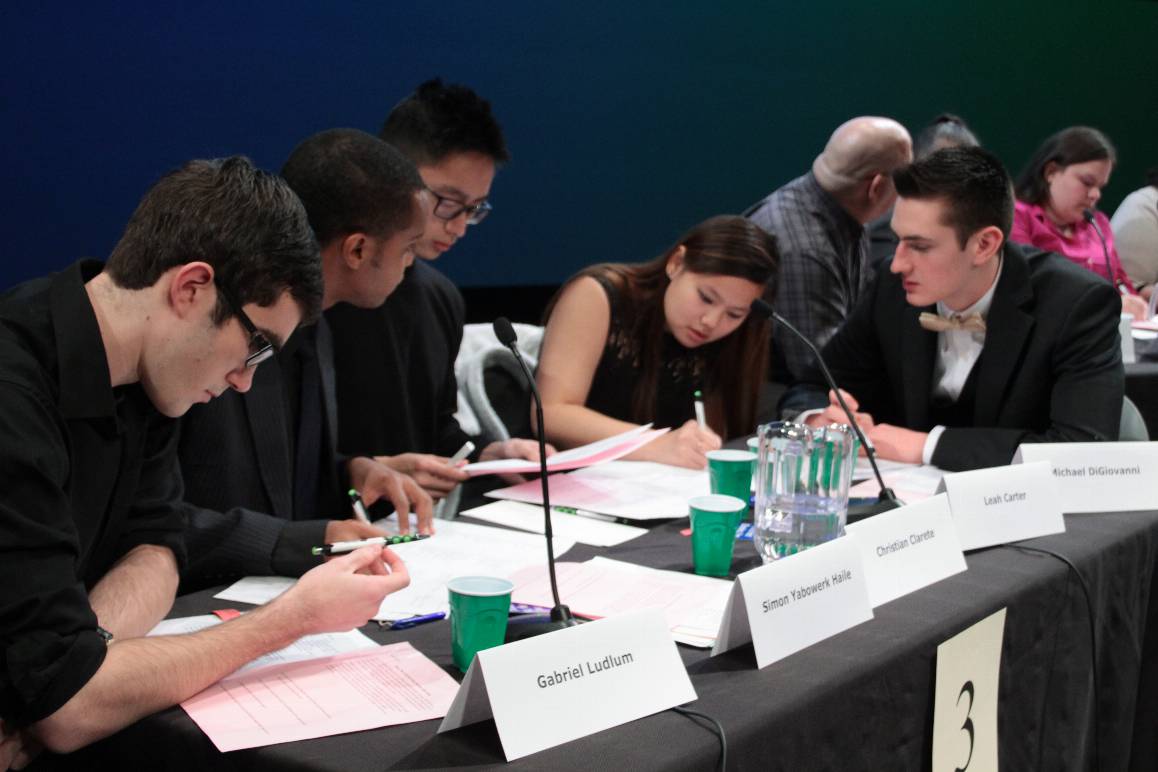 Edmonds College students participate in a previous Ethics Challenge.
The challenge has a quiz show format and teaches ethics through the analysis of real-life scenarios. Each team — using teamwork, communication, and critical thinking skills — will be given seven minutes to discuss its given scenario and three minutes to present solutions. Judges will include community members, Edmonds College faculty, and State Farm representatives.
The event is free and open to the public. Preregister online. Please have your confirmation email ready to show at the door. If you are a student or employee, please bring your EdPass. Community members and those without an EdPass must show a photo ID and either a COVID-19 vaccine card or a negative test from an approved provider that was done within 72 hours of the event. Masking will be required for all audience members.
The student teams are:
Hospitality and Tourism: Lalou Calamusa, Manisha Resnik, Soomin Song, Katsiaryna Gorenko
Business DTA/Business Management: Aldo Javier Jimenez, Aidan Markey, Arijeet Singh, Audrey Loemongga Silalahi
Project Management Certificate/Business Management ATA): Suzi Ibach, Emma Ruth Ramos, Andrea Boyd, Sasan Naghieh
Center for Student Engagement and Leadership CSEL): Frederick Kusumo, Posma Salomo Joy Nielsen, Sadie Szeto, Grace Griffin
Three students are also standing by as alternates: Wendy Bannister, Betelihem Emhazion, and Jovanni Lopez Murillo.
The Ethics Challenge is sponsored by the college and the following State Farm insurance agents:
James Banks
Sales Leader
425.492.0661
Bothell, WA

Olivia Crelencia
206-725-2424
Seattle, WA

Katherine Dovinh
425-778-3445
Lynnwood, WA

Tony Edwards
(425) 337-4800
Everett, WA

Barry Glenn
(425) 483-6300
Bothell, WA

Chris Jones
425-318-7034
Bothell, WA

Matt Martin
(425) 743-2600
Mukilteo, WA

Becky Schuler
(425) 742-8700
Lynnwood, WA

Susie Smith
425-776-3109
Lynnwood, WA
Media Contact Info
Sam Fox
samuel.fox@edmonds.edu