News Archive
Business management students take first place in "Family Feud of Ethics"
05/18/22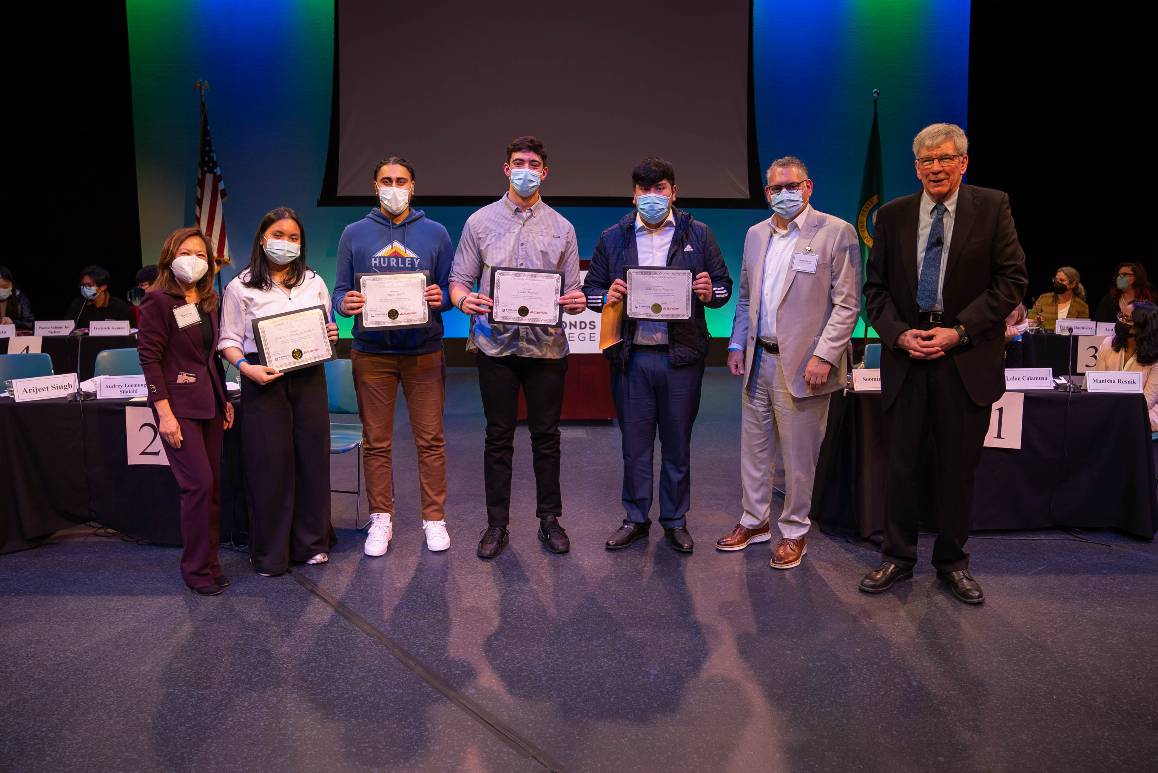 Marie Tran, business management instructor; Audrey Loemongga Silalahi; Arijeet Singh; Aidan Markey; Aldo Javier Jimenez; Matt Martin, State Farm agent; and Charles Ruthford, master of ceremonies
Edmonds College business management students took first place in the college's fifth Ethics Challenge on May 12.
The challenge was held in a quiz show format and taught ethics through the analysis of real-life scenarios. Four teams — using teamwork, communication, and critical thinking skills — were given seven minutes to discuss a given scenario and three minutes to present solutions. Judges included Susan Persinger, State Farm senior agency field specialist; Becky Schuler, State Farm agent; Charles Loomis, Edmonds College business management faculty; and Scott Eck, community member. Over 100 people attended the event.
The first-place team's members were Aldo Javier Jimenez, Aidan Markey, Arijeet Singh, and Audrey Loemongga Silalahi. All competitors received gift certificates to the bookstore and certificates of participation.
The Ethics Challenge was sponsored by the college and the following State Farm insurance agents:

James Banks
Sales Leader
425.492.0661
Bothell, WA

Olivia Crelencia
206-725-2424
Seattle, WA

Katherine Dovinh
425-778-3445
Lynnwood, WA

Tony Edwards
(425) 337-4800
Everett, WA

Barry Glenn
(425) 483-6300
Bothell, WA

Chris Jones
425-318-7034
Bothell, WA

Matt Martin
(425) 743-2600
Mukilteo, WA

Becky Schuler
(425) 742-8700
Lynnwood, WA

Susie Smith
425-776-3109
Lynnwood, WA
Media Contact Info
Sam Fox
samuel.fox@edmonds.edu