CTCLINK Phases
All employees and departments will be impacted to some degree by the change to the new ctcLink system at Edmonds College. For some individuals, the impact will be minor and for others it will change the bulk of their daily work processes.
The new system will be implemented across all 34 community and technical colleges in the state of Washington. The new timeline going forward has Edmonds College in Deployment Group Four along with eight other colleges. The timeline specific to Edmonds will include four main phases.
Navigate to each page to learn more about the activities and the anticipated time that Edmonds will be involved in each phase!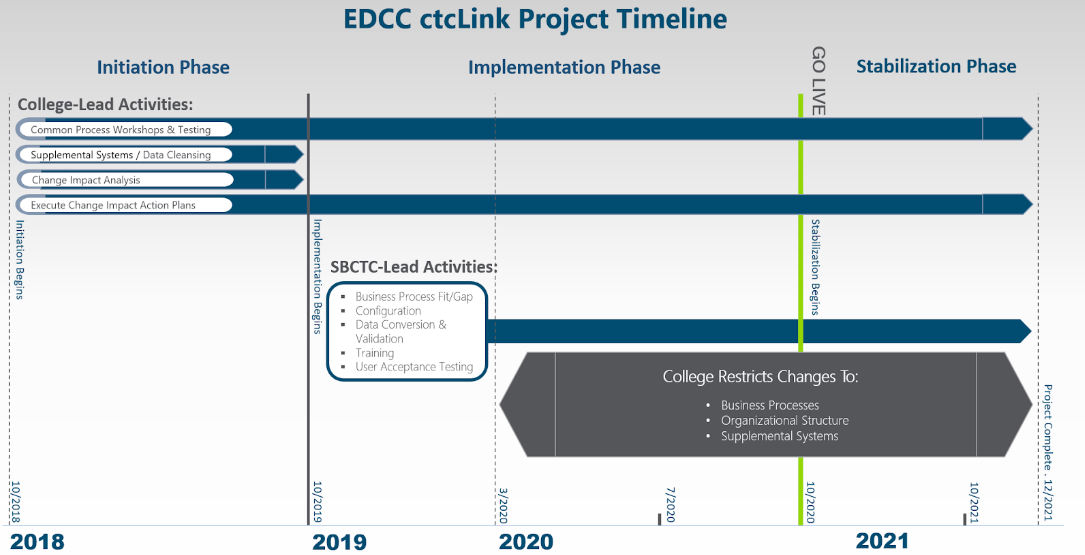 Next Steps
With a new director at the State Board and a new plan in place, the ctcLink project is back on track.
In collaboration with a group of college project and organizational change managers (OCM), project leadership has developed a detailed plan and timeline for implementing ctcLink to all colleges by 2021.
Governance
The State Board has implemented a new governance model to move forward with the rest of the project. There are three levels within the model which assist in giving the project greater visibility and transparency as well as allow for more timely decision-making within the project.
The more involved and at the forefront of this project Edmonds continues to be, the more opportunity Tritons have for this project to carry on in their favor. Edmonds College is proud to have a seat at both the Working Group and the Steering Committee tables by Beth Farley and Ligia Cicos, respectively.
Working Group

Expand Content

Collapse Content
meets bi-weekly
decisions on implementation schedule within budget and overall timeline
decisions on configuration management within scope
decision on training plan
decision on OCM plan